Costa Rica [Day 7] Heading to Villa Blanca
Official Agenda
ARENAL VOLCANO / CENTRAL VALLEY
At 10.00 am board the Sunset Tours van for the 2 hour drive to Hotel Villa Blanca. Arrive and check into a deluxe casita. Take the rest of the day to enjoy the hotel and the area
.
The next morning, we all woke up at 7:30am to get ready for the day and pack all of our stuff again for our final location. We realized that somehow all of our belongings and added gifts/souvenirs were no longer fitting as nicely into our suitcases and that the situation required some creative packing! In Brian's case, as he tried to jam items into his fanny pack, it ripped! I told him I would sew it with the small hotel-provided mending kit after breakfast because he didn't have any other bag to use and we had 2 days to go!
Before that, though, we headed back to the pool restaurant for breakfast. The breakfast buffet was pretty good, now that I was able to eat! We ordered omelets from the made-to-order station and had some fruit and coffee. The waiter was in a good mood and very friendly and was asking questions about my tattoos. It was a nice, relaxed morning.
[A worker at the hotel trimming the bushes with a pair of machetes]

[A shot of the water wheel from last night's restaurant]
[These cool fish were swiming around the base of the wheel]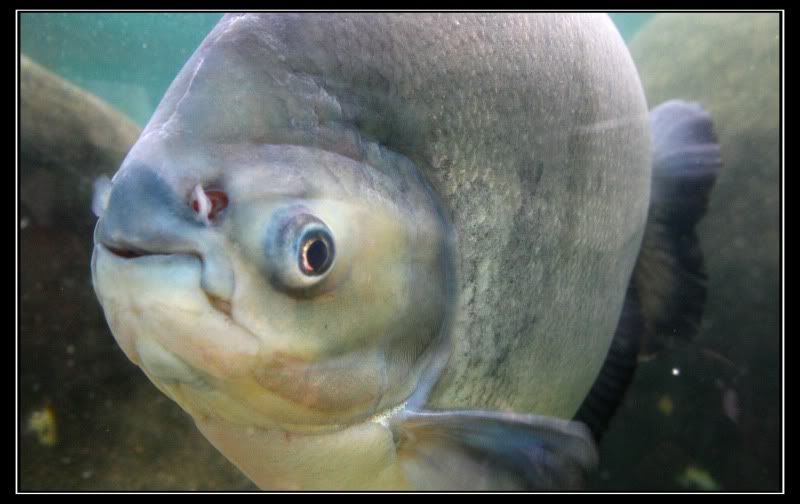 After breakfast we returned to our room where Brian read, I sewed his bag, and Tim disappeared to try to capture the local flowers and the elusive hummingbird on camera. During this adventure, he discovered a little stream with a great view of the volcano.
[Finally! A decent shot of a hummingbird!]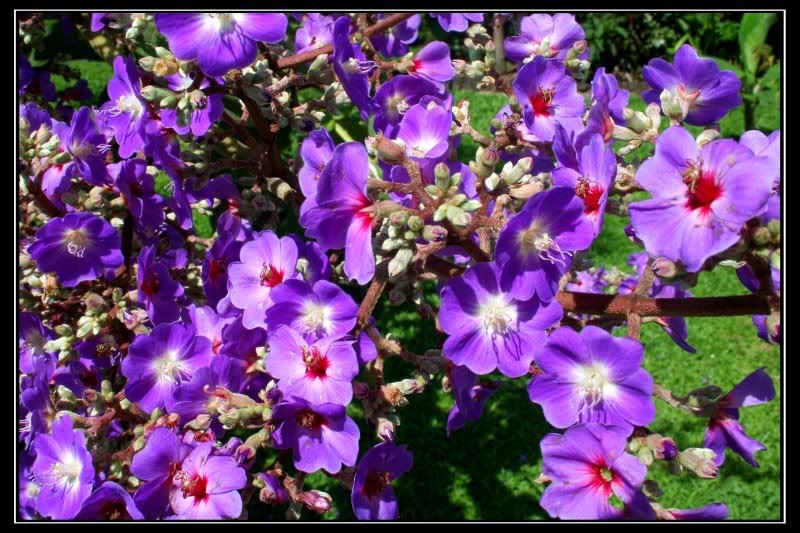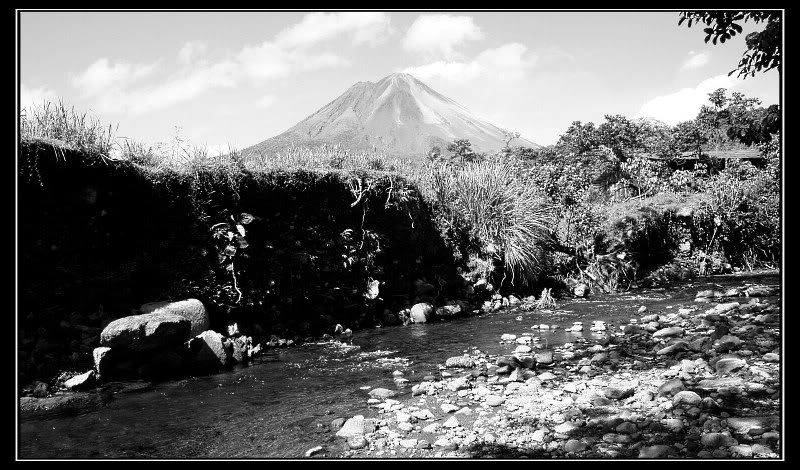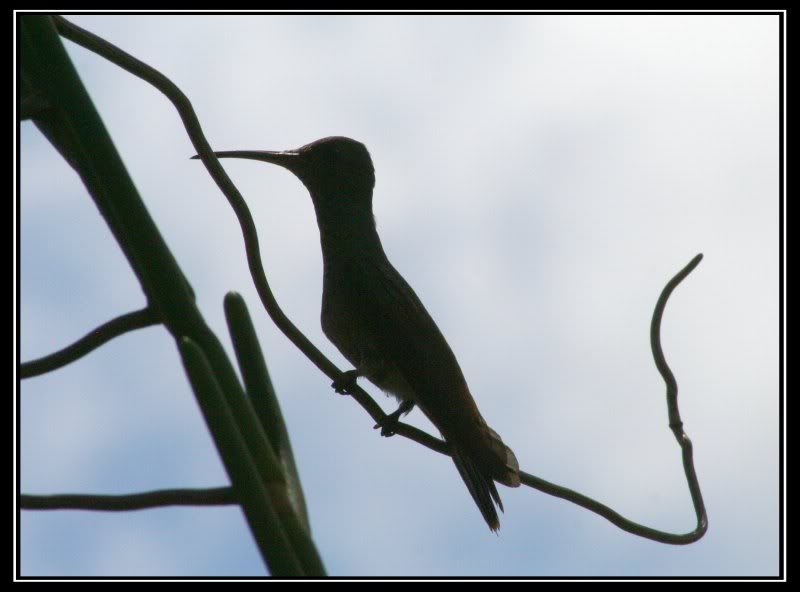 At around 9:40am or so, we called for a golf cart to take us and our luggage to the lobby where we settled our bill and waited for our 10:00am pickup to Villa Blanca, which was closer to San Jose and the international airport than the Arenal area.
When our driver arrived, he introduced himself as Elfrin. He was very nice, friendly and accommodating. He told us that we had a few hours drive to the hotel and that if we wanted to stop anywhere on the way to just let him know. I told him I'd like to get some necklaces made by some local artists and that also we'd like to get some souvenirs for family/friends.
Our first stop was in a nearby town where we were brought to a little stand on the street corner. The vendor was just setting up a small table with hundreds of handmade necklaces. He told me this was all his own work. My first thought was, "
Sure it is. 6 year olds who are kept home from school made these"
. (I know, jaded). However, I was pleasantly surprised when I realized he did make them (or at least knew how to make jewelry). He was able to easily swap out pieces of one necklace for another, customize the clasps, and change the necklaces in real time to get them how I wanted them. It was really cool to watch! Some of the tools he had for jewelry making I have myself, but I don't use them quite as well or as quickly! I ended up getting three necklaces, although they were all so pretty I could have easily gotten many more!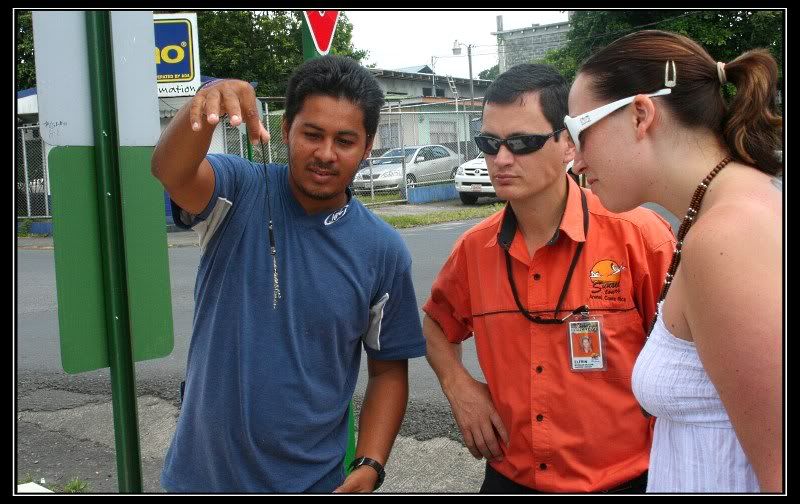 After this shopping spree, we headed back on the road where Elfrin pointed out many interesting sites. We elected for the windy scenic route. We saw some beautiful scenery, although after awhile the winding was a little much. We survived though!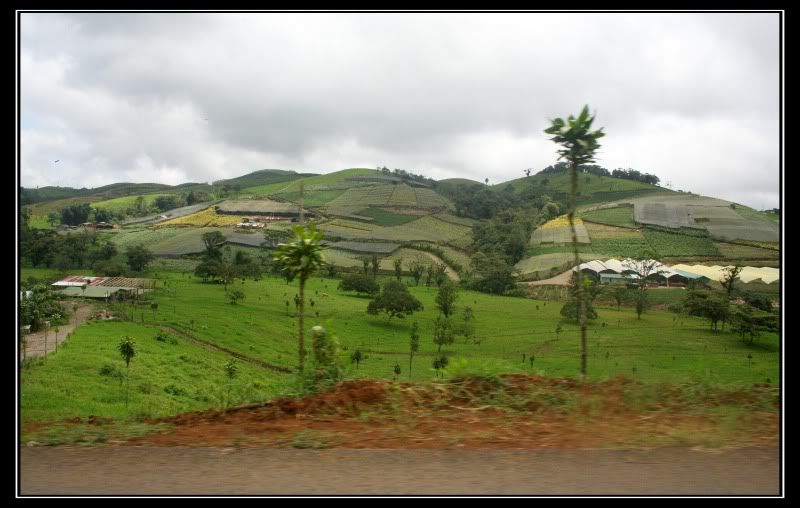 As we neared the turn off for the hotel, he brought us to a little food stand where we got cheese, bread, candy, and other treats! It was really cool to talk to the vendor and pick out the food and treats.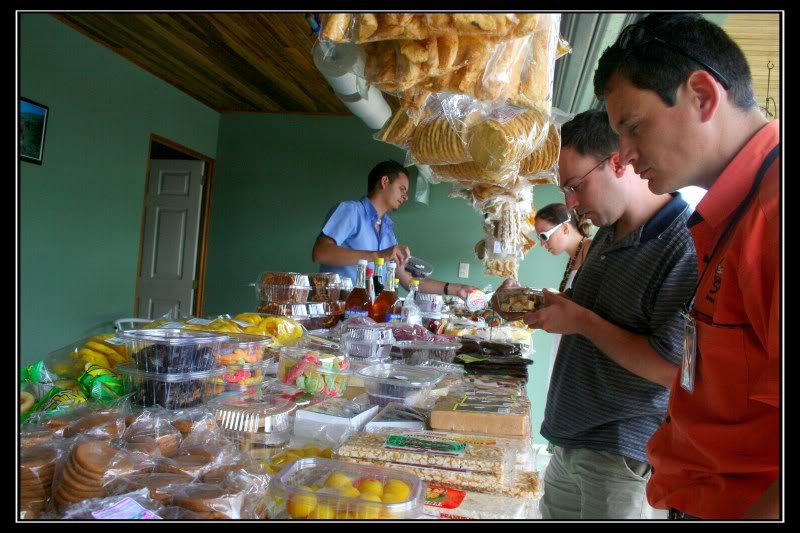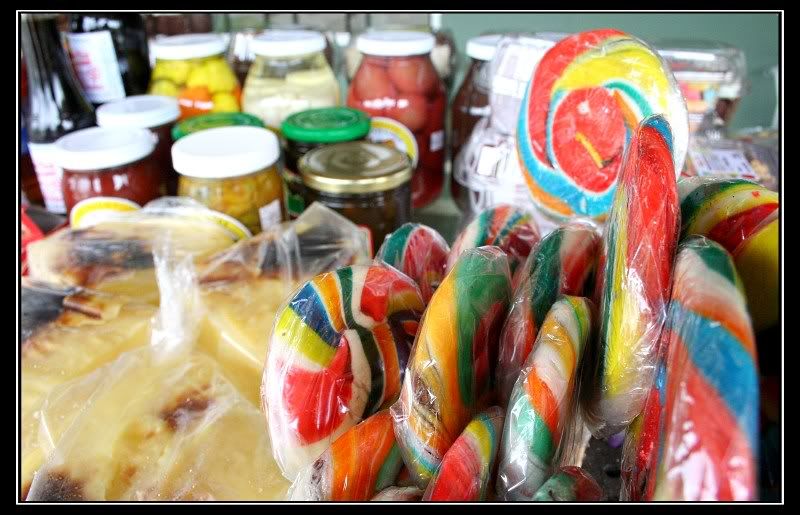 [These hanging balls of cheese would soon prove to be some of the best cheese in the world!!]

When we were done there, Elfrin brought us to a nice souvenir shop which had many options at prices much less expensive than in the places that were in the hotels or right in the city. We all picked up some gifts for our family and friends. I wish we had gotten more gifts there, actually, because things were so much more expensive everywhere else.
[This guy was showing off several 3-ring binders full of foreign currency]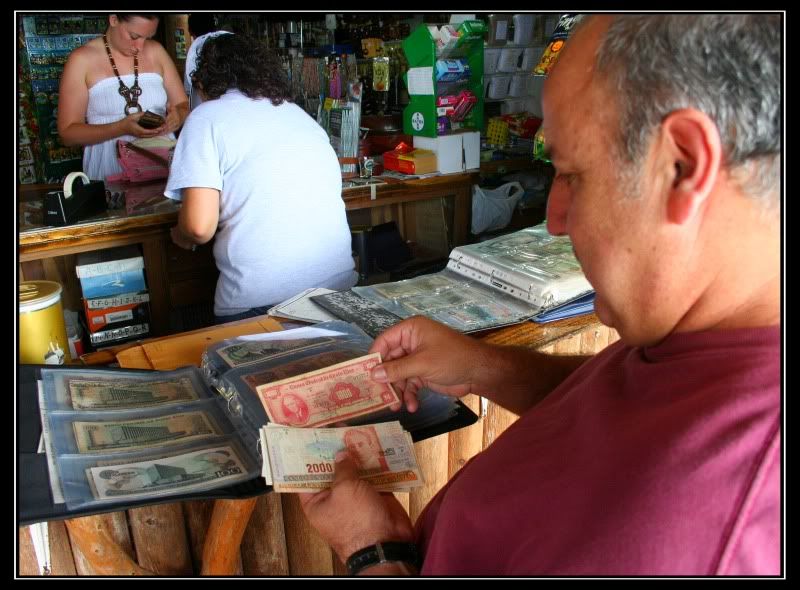 After at least an hour looking around the shop, we finished and Elfrin took us to the Villa Blanca, which was at the end of a long dirt/gravel road lined with cows.
[Sometimes you just have to have your priorities in order...]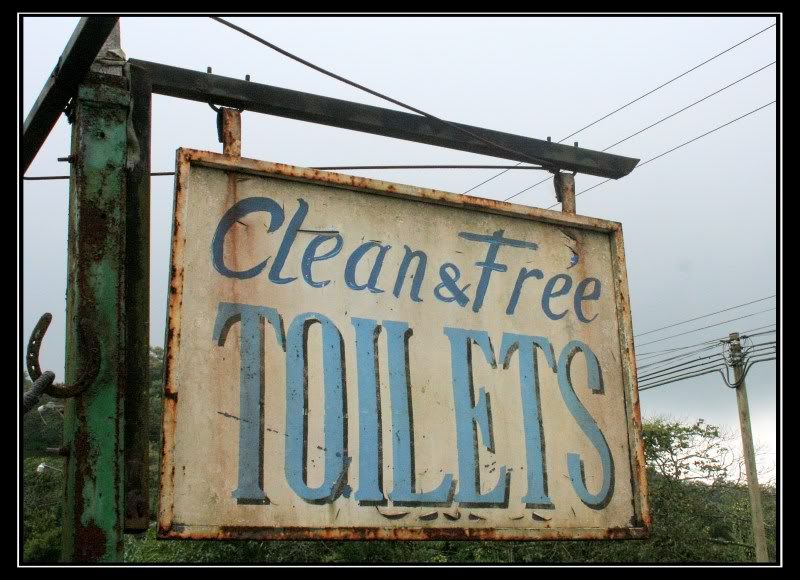 The hotel was absolutely beautiful. It contained several casitas scattered along a path with lighting along the side. The casitas were surrounded by the rain forest, and the grounds were lush and expansive. We were immediately very sorry that we had only one night here and that it was such a short night.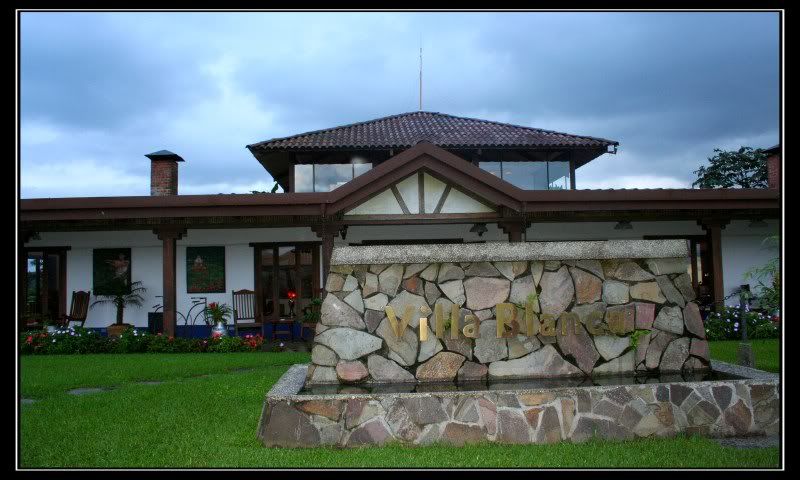 Upon checking in we were told we had received a complimentary upgrade to the honeymoon suite. This was kind of funny. Tim asked if it still slept three people, and we were told that it did. Additional confusion ensued when the person bringing our luggage couldn't understand who else we were waiting for. Brian and I were outside with the luggage and Tim was purchasing a bottle of wine for us to drink with the food we bought at the roadside stand. Finally, with the help of the receptionist, we were able to convey there were three people in our party, and indeed, we were all staying in the honeymoon suite. I was a little embarrassed by the whole situation to be honest, but what can you do? It is not as though we set out to book the honeymoon suite for three people.
When we got to the room, we found it to be beautiful! We received a tour of the room by the person who brought our luggage and then Tim went around to take the initial pictures of the room. It had a large Jacuzzi bath tub with large "tub to ceiling" windows opening to the lush rain forest outside. It had a large shower and a great covered patio with 3 chairs. In the living room area it also had a great stone fireplace.
[We saw these flowers along the road during the drive in, and they looked like cauliflowers. Our room had a bunch of them growing next to it.]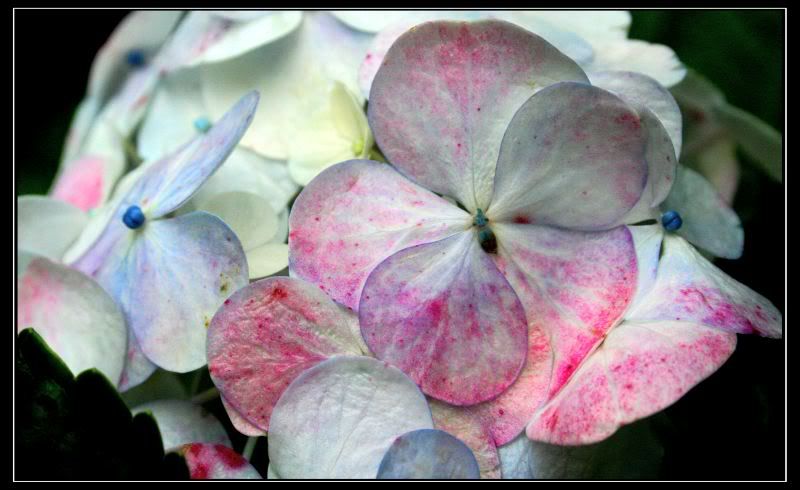 Around this time, it started to pour down rain. We sat out on the patio in the pouring rain and ate our ball of cheese, the bread, and some fig/pineapple snacks, and drank the wine. It was a great lunch!
[Fantastic food, fantastic people in a fantastic environment!!]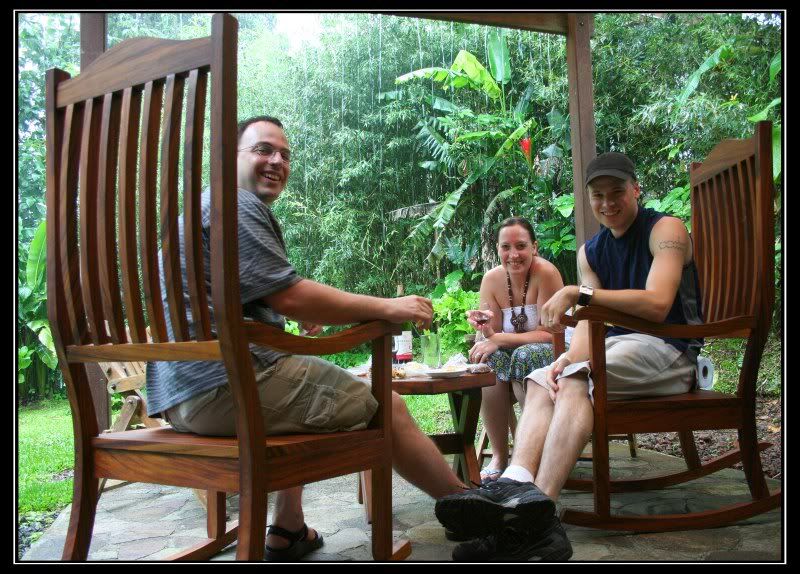 Following lunch, I tried to take a bath only to find out the tub seemed to be unable to hold water. The boys made a fire in the fireplace during this time, so the room was very cozy as it rained outside.
[I must admit I've had very little experience building fires in foreign countries. It wouldn't seem to be that different, but this type of wood had some crazy properties that befuddled Brian and I for a while until we got it going well. No matter how many glowing coals and smoke we had, it didn't seem to light until we put a flame to the coals.]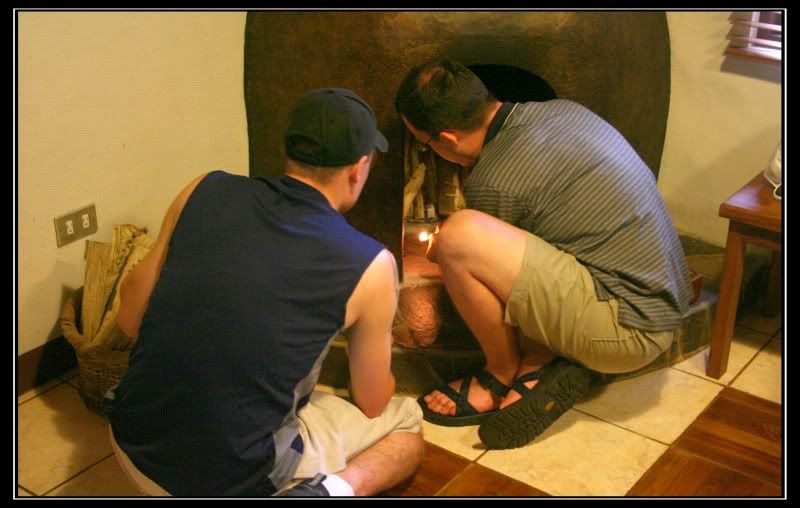 At around 5:00pm we headed over to the lodge for happy hour. We were the only customers, so we chatted with the bartender and watched a bizarre National Geographic episode dubbed over in Spanish of a man trying to live like a submissive wolf in the pack. He was even eating raw meat from a kill. We tried a sour local drink made from sugar cane liquor.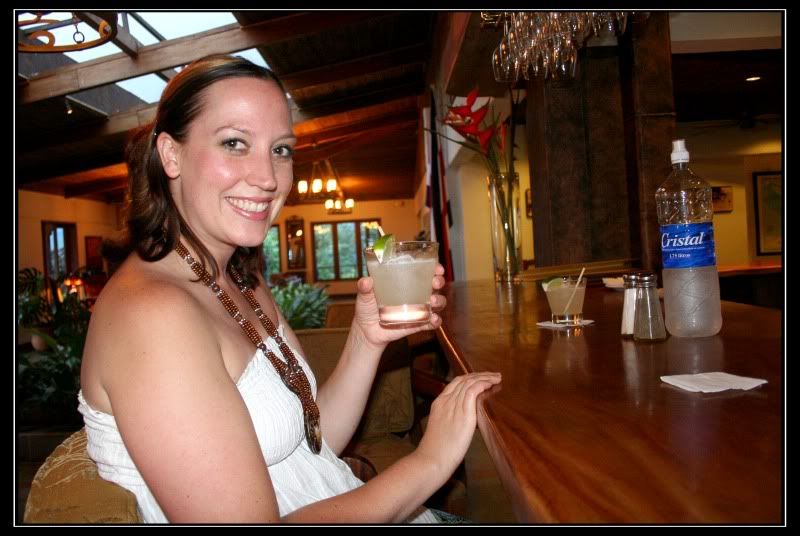 Before eating dinner, we looked at the souvenir shop. The souvenirs were very expensive there, but they had some beautiful wood products. I got a wooden frog for my sister and bargained down the price due to some scratches on the back. I also got a set of coasters for our house. The staff was extremely friendly, but then they did outnumber us about 3 to 1. The hotel was not very busy.
[This little church down in the valley was visible from the hotel as the forest mist lifted off after the hard rain]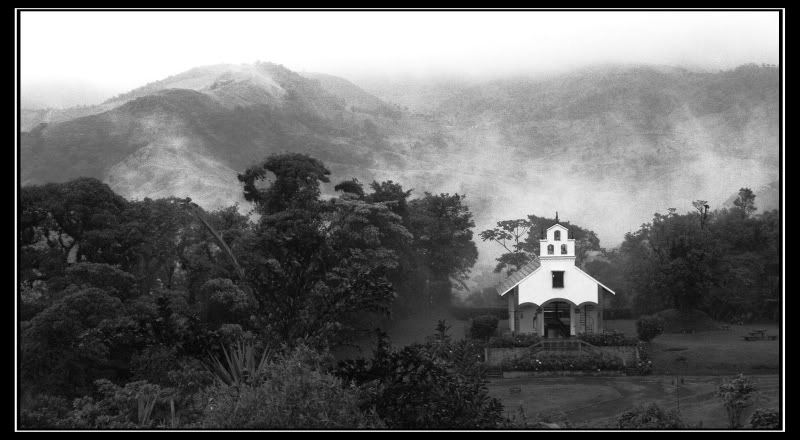 We headed over to dinner. I vaguely remember Shannon and Steve telling us not to eat there. But at this time of night, and considering how far away the hotel was from town, and also considering we had no rental car, we were pretty much stuck. Besides, we weren't sure how the food could be that bad at such a nice hotel. But… it was. The food was definitely the most expensive place we had eaten so far, and I could only get down about 3 bites of my fish. It was so dry and overcooked. The boys seemed to like their food OK, though, so maybe it was just some dishes that were not very good.
After dinner, we walked back to the room. It was kind of an odd feeling as we walked back. We passed a family heading to dinner with a flashlight. The flashlight, the family, the walkway, the fact that I was with Tim and Brian, and the woods reminded me of camp. My mind had a little trouble remembering where we were exactly. I had a strange sense of many places being pretty much the same and that the people you are with is the biggest distinguishing factor. But then it was gone, and we were entering our casita to pack for the last time.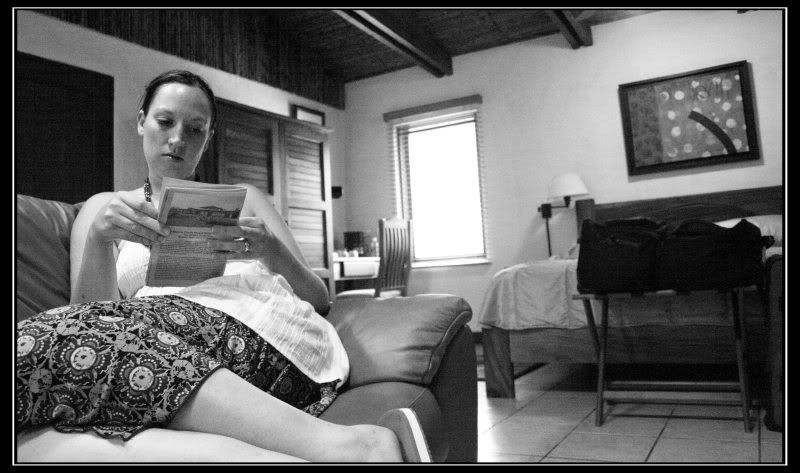 The packing went pretty easy this time. We had to be up at 4am in the morning for our 5am pickup to the airport. We tried our best to fall asleep right away.