Girls Gone Wild in Arizona!
For the last few years, my mom and sister and I have made it a priority to go on a girls vacation in the fall.
So, this year, from September 27th - October 2nd (well, it turned out to be October 3rd, but more about that later), my mom (Faye), my sister (Jennifer), and I (Kendra) enjoyed a nice restful vacation in sunny Arizona! The weather was perfect during our stay - not too hot, but sunny, and feeling a bit like just the start of fall.
I had created a very detailed agenda for my mom and sister, especially since they would have to take the first leg of the flight alone, as they were flying out of Harrisburg and I was flying out of Philadelphia. They did very well (after some security confusion on mom's part), and I met up with them in Detroit! After a quick lunch, we boarded our plane to Phoenix. I was upgraded on all of my flights, because I still have status from working at Accenture. I wanted mom to take my seat, but she wouldn't and sat with Jen.
We arrived in Phoenix, and my mom and Jen experienced the familiar shock at the unique landscape of the south west. I am not sure my sister has ever seen a cactus in the wild. It was really cool to see their surprise.
After some drama over the discount rate, we loaded into our Rav 4 and headed for the resort!
I'll pause here to comment about the luggage situation we were facing. Now, while I will admit to being a bit girly and coordinating my outfits, years of packing has trained me to stick with one color group and minimize accessories while on vacation. I packed a backpack for carry on and checked a medium sized duffel. Well.... although Jen packed an entire suitcase of shoes and copious amounts of hair product, she neglected to pack a single sweatshirt for the cool evenings and also neglected to bring any container for water. My mother - ditto, except a few less pair of shoes. So, if you just take a moment to picture us trying to carry 7 suitcases and 5 carry on bags between the 3 of us through the airport, you will get the picture. I feel entirely justified in giving mom and Jen crap about this because I never heard the end of my agenda and budget spreadsheet (which I swear they requested) :-)
So, back to the story. Our room was very nice at the Sheraton, with a complete kitchen, balcony, and whirlpool bath. The resort had beautiful grounds and two pools with water falls.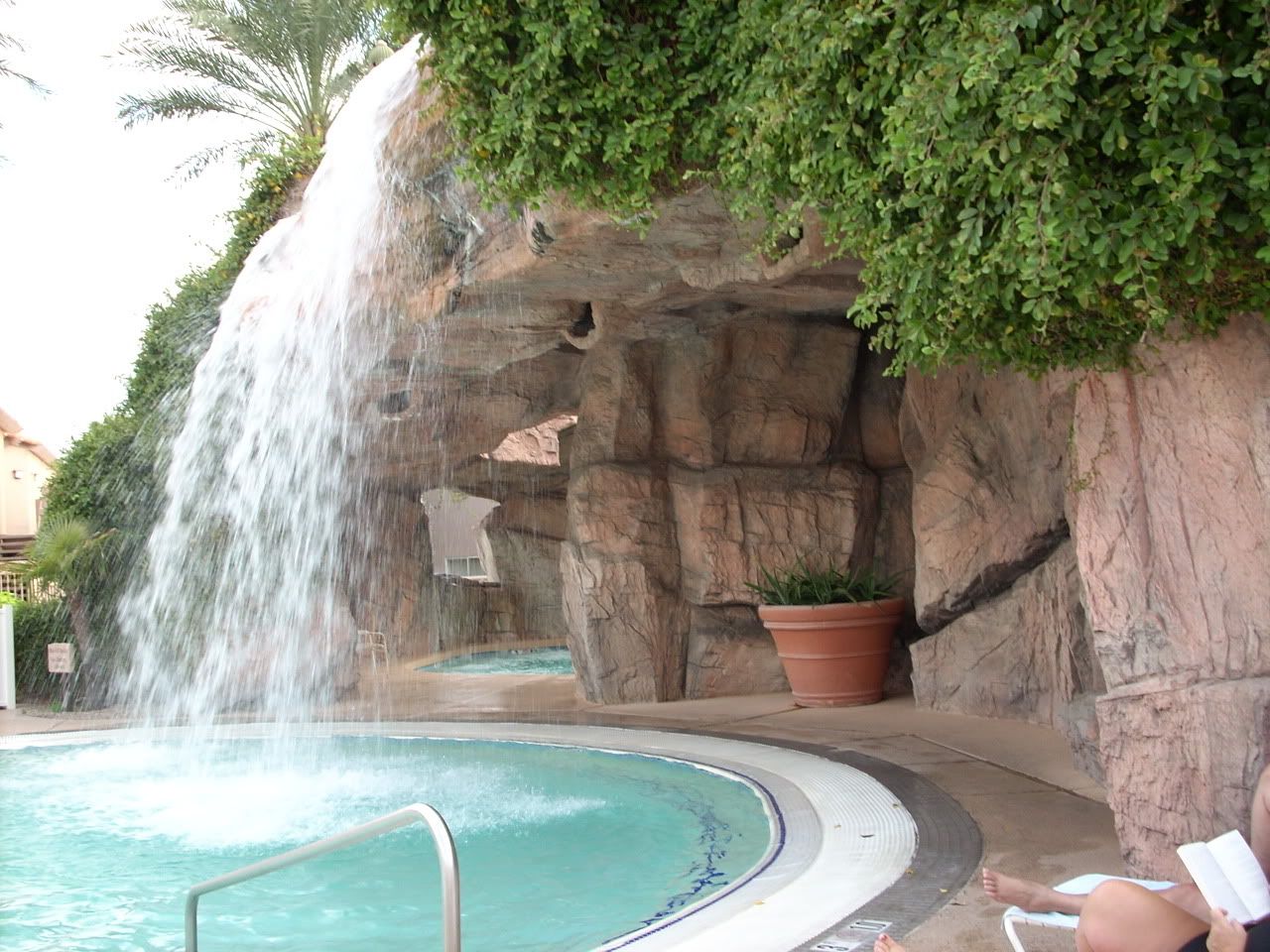 Before long, we were getting organized, ordering some lunch, and heading out to the pool. We went to the grocery store later than evening to get some food for breakfasts and some other meals and to stock up on two large containers of spring water to tide us over our many day trips.
We arrived home just in time to have the battle of the season openers. Jen - The Office vs. Kendra - CSI... Good thing the room had two TVs. Although I did have to question how substantial the plot of the The Office was when Jen came prancing into the room 15 minutes before CSI had ended... she thought her show had ended already. :-)
So, our first day was a success. We had arrived all in one piece with all our excessive luggage, we were getting relaxed, and we settled into the room.
Friday we woke up to a great, albeit decadent, breakfast made by my sister. She made french toast stuffed with strawberry cream cheese. Soon after this, we headed out to look around Old Scottsdale for awhile before our appointments for our tattoos! (Yes, we got another one).
It was so nice to be together and have the time to casually browse the stores and make suggestions to each other of what various people might like. Before long, it was time to head out to Divinity.
We arrived just a few minutes until the official opening time of 11am and headed in. We were immediately assigned our artists (each a different one) and started describing what we wanted. Jen and I got the same design, although, since we had different artists, the end result was still unique, which was cool. We got a tiger lily on a vine (with thorns) with the Chinese characters for "older sister" and "younger sister" incorporated. The design was meant to be symbolic of Jen and I together.
This one hardly hurt at all. My other ones were all on bony areas, which is more painful, but this one was on my chest which had more fat and really didn't bother me.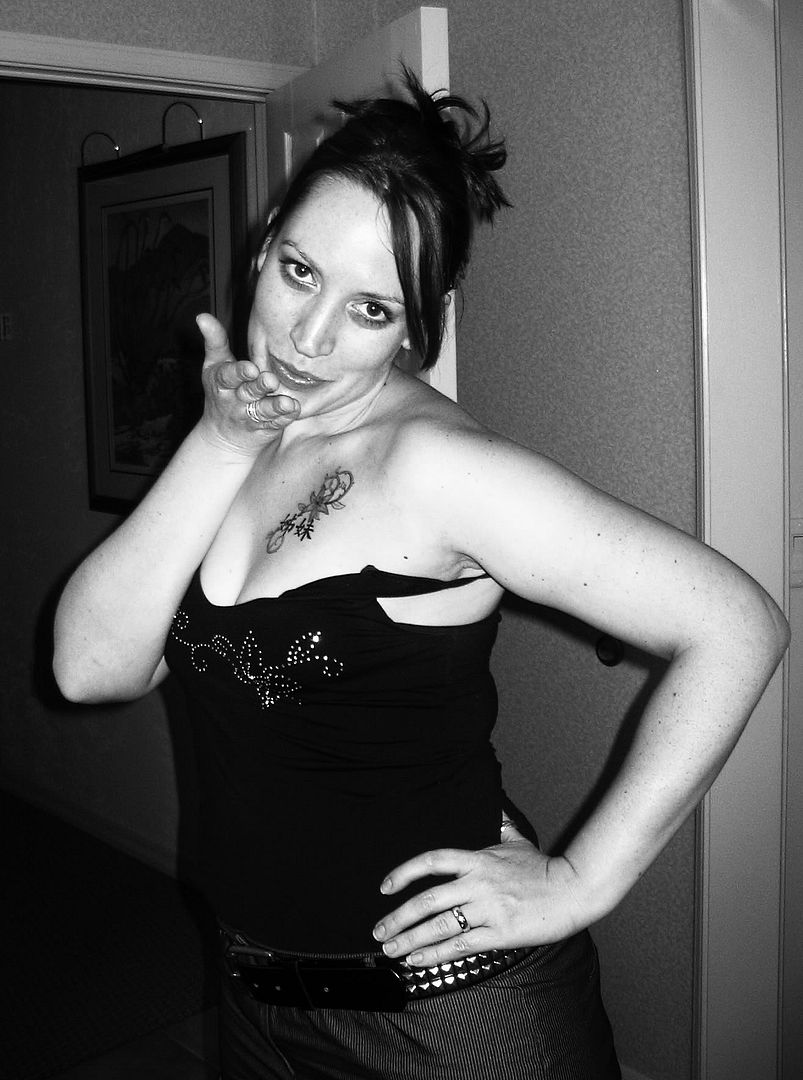 We were really pleased with the results, and Jen was especially pleased with her artist (Dan). She thought he looked like Jesus (and told him so - he is probably still getting teased for that) and developed a crush in a hurry.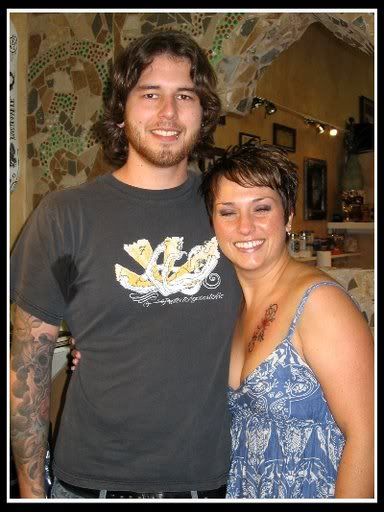 We spent the rest of the day sight seeing and made a stop by the book store to replenish our reading material. I bought a book called "Personology" on sale for $9.99 and we had great fun the rest of the evening having cocktails on the balcony and looking up everyone whose birthday we knew to laugh about the insights on their personalities. Some highlights:
Kendra
: (Sun)
Noble and regal, these proud individuals expect the very best that life has to offer. Unfortunately, since they are not geared for failure they are frequently unable to handle the disappointment of setbacks. Their frustration level tends to be low and also their patience. In order to achieve happiness they will have to become more accepting while being less demanding.
(Reaction: Such B*** S***!... completely messing with you - I know it's true!)
Jen
: (Saturn)
Shyness and extreme modesty may be the result of this Saturn placement
. Such attitudes could make his individual more attractive, in fact, but easily overlooked by the average person. Like an unusual flower growing by the wayside that not everyone sees, this person is there only for the few who recognized their beauty. Learning to be just a bit more assertive will help them in life.
(Reaction: We were laughing so hard after hearing a derivative of the words "shy" and "modest" that we didn't really hear the rest of this entry)
Mom
: (Neptune)
A preoccupation with computer software, technical intricacies, cars, and websites is characteristic here. Such individuals do well as consultants and troubleshooters, ferreting out problems and solving them. Usually strong in design concepts, they are never happier than when dreaming up a new plan for any group or organization. Being appreciate
d for their services is important to them in all aspects of life.
(Reaction: While I personally think my mom has caught on to computers very well, I have spent enough hours on the phone with her trying to dictate how to access her email that the idea of her as a computer consultant was almost too much to bear...) ;-)
So, after getting way more than ten bucks worth of fun out of that book, we headed off to bed.
Saturday we woke up, ate breakfast, loaded up water and first aid kit in the car, and headed to Sedona! When Tim and I were in Arizona last, this was probably our favorite place. It is rustic and beautiful and fun and very unique. It took us about 2 and a half hours to get there. We headed into the town area first to book our Red Rock Jeep tour and grab lunch at the Cowboy Club. I treated for lunch so that my mom and sister would try the rattlesnake and buffalo. Although giving me a lot of resistance, they both said they were really happy to have tried it and be able to tell people that. I was happy to drink down a prickly pear cactus margarita, which I hadn't had for 3 years.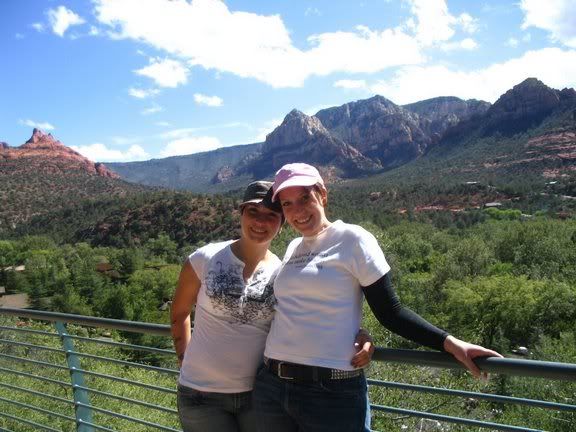 Following this, cowboy Randy took us on a jeep tour! Jen sat in front with him so that she didn't get car sick where she proceeded to be a salacious flirt (although she claims otherwise). When Randy started in being sweet to me, I rebuffed him, claiming he had already been flirting with my sister. Mom informed us we were both scandalous. (This is probably why Jen and I aren't meant to live TOO close... woe betide the town that has both of us).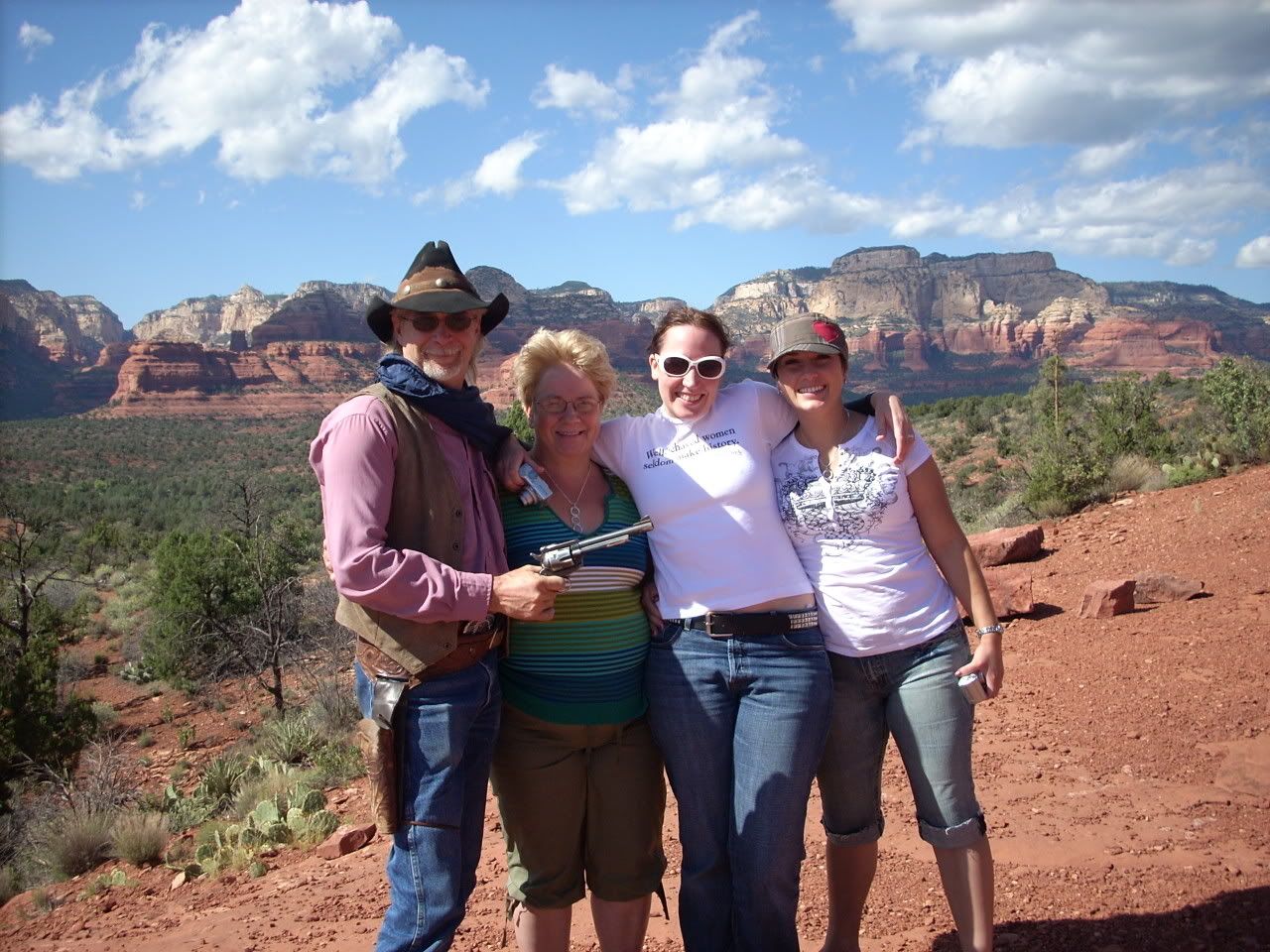 After the tour, we spent some time looking at the many gift shops in town and then headed back. When Tim and I were there, we went around to the vortexes, but there wasn't much interest in that from this crew. That was fine with me, as we were pretty tired.
When we got home, we went and picked up a few pizzas for supper and hung out at home.
Sunday we woke up late and spent our time at breakfast, talking and trying to decide what to do. We ended up deciding to go to the Grand Canyon that day, even though I knew we'd end up spending more time driving there than at the Canyon. Although it was a really long day, it really did end up to be awesome. After about 10 stops on the way (Jen needed ice cream, numerous bathroom breaks, etc.) we ended up at the Canyon, paid our fee, and got the map. It took me awhile to figure out how to get to the view points. However, we figured it out and ended up at Yaki point just before sunset. It was gorgeous. We ended the day with a dinner at one of the Lodges where we talked more. It is great to experience just an awesome view with the two most important women in your life.
Monday it was back to Old Scottsdale for souvenir shopping, including lunch with live guitar music at the Rusty Spur.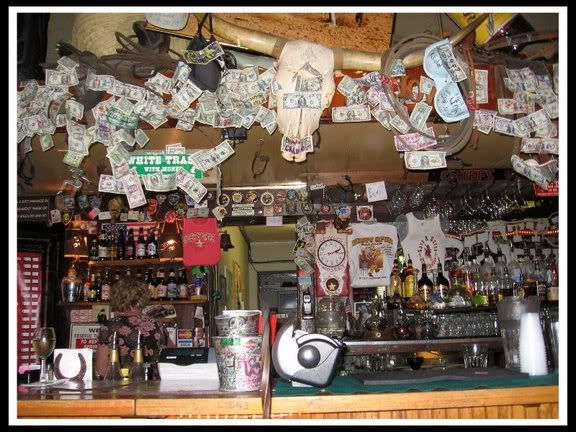 Afterwards, we had some relaxing by the pool. (Me in my jeans, because I didn't feel like shaving) :-p We ended the day by packing (or trying to pack) all our stuff into the same suitcases we came in.
Tuesday was back to the airport where we were greeted with significant delays including an overnight stay in Minneapolis. The airline put us up in a hotel since I had been upgraded to First Class (and finally convinced mom to take the seat), and we all arrived home in the afternoon of the 3rd. All in all, everything worked out for the best!
I will have many memories of this trip in addition to the ones above:
- The ridiculous amounts of text messages my sister received and the fact that she kept her phone on all night to get them (AND has a ring tone to indicate text messages).
- The realization from all of us at how very different we all our in everything we do, but in how much we love each other despite the differences.
- I eat less but drink more, which made for tensions when I'd skip meal times by hours not realizing my mom and sister were hungry. Equally tense moments resulted if I did not have my coffee in the morning, my glass of wine in the afternoon, or some other drink at night. Between the three of us there is a perfect amount of both eating and drinking ;-)
- Neither Jen nor my mom have the slightest appreciation for how beautiful they are.
- Several discussions on moral dilemmas, choices we make, happiness, and life in general.
- The reminder that we would always be family for better or for worse.
Looking forward to girls' vacation 2008!
For more pictures (including some horribly purposely posed ones), please see
this link
: