AI Paintball Bonding!
On Friday the AI group at my work had a team building activity of paintball! This was my first time, which likely explains why I put a lot more effort into planning my outfit than my strategy for not getting shot. It also explains why I now have about seven very nasty and painful bruises. But, hey - live and learn. (Or as more often is the case for me - live and live and live and sometimes learn).
We all met at the office at 8:30am and loaded into the bus. The AI people from our Denver office and our London office were in town for the
occasion
, which was really great. We don't get to see them nearly enough!
I had a really hard time
maneuvering
the gun, not spilling my
paint balls
, running, hiding, trying not to get shot myself, and shooting my gun all at the same time. When you take this along with the fact that I didn't really seem to understand the
fundamental
concept of the games we were playing, I was not exactly our teams strongest player. However, I did give it my all. I crawled on the ground on my hands and knees and stomach and rushed behind barricades, and eventually, all too soon, got shot. I was sore for a few days afterwards. It was a great experience in the end, and I enjoyed bonding with my co-workers.
Here are a few pictures from the day! There were a few other shots I know I was in with my friends, but those pictures are not posted yet. I will update this, when we return from Germany, if I see more in the coming weeks.
[A few of my friends are in this photo below. From L-R: Chris (partially obscured by
someone's
thumb), Howard (looking at the camera), me (with green hat and
camo
shirt on), Kate (with
bandanna
), and Kevin (well, the back of Kevin's head)]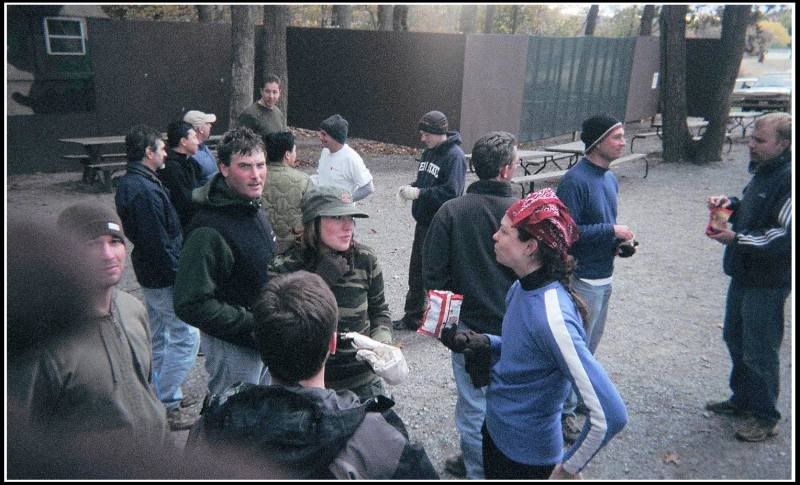 [Kate and Kendra - super
heroes
!]