Heading to Germany - a.k.a. The Continuous Wednesday
[In Germany you have The Quaint...]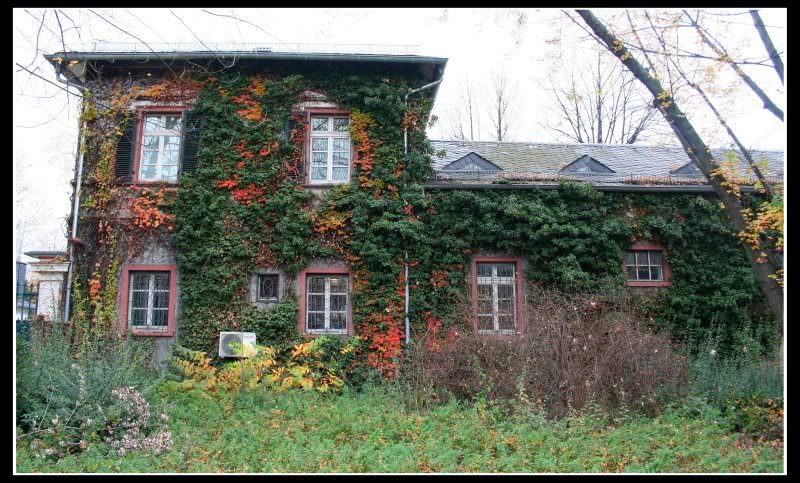 [...And the Commanding]

11/21/2007 (In the US)
Several months ago we booked flights to visit my cousin Ray and his partner Juan Carlos in Germany, leaving 11/21 and returning on 11/28. Tim and I have been so busy these last couple of weeks – actually months – that we hadn't even really had time to really get excited about the trip. As a result, when the week of 11/19 finally came around, we found ourselves packing and getting ready the two days before, when we finally realized we were going on vacation!

Wednesday morning we headed out at 7:30am from the house after saying good-bye to Elora, and took a cab to the airport. It seemed we were both still in a not very relaxed mode, but we were trying! We got our boarding passes and through security without hassle and decided to have some coffee and breakfast. Tim got the coffee drinks at the central airport coffee shop while I ordered some food for us at Au Bon Pain. It was a nice leisurely breakfast, since we had so much time until our 11:15am flight would leave to take us to Boston (where we were connecting).

After breakfast we headed over to our gate to read until we would board. All of this was also nice in helping us unwind before vacation.

Finally, we boarded the rather uneventful flight to Boston where we continued to read our books.

In Boston, we switched terminals and went through security again for Lufthansa. Although the international terminal lacked excitement, it did have a Houlihan's, which enabled us to enjoy a few glasses of Sam Adams Winter Ale and lunch, which ate up at least an hour. (Traveling is a constant reminder to me that you never have time when you want or need it… when you don't need quite that much time alone with your thoughts, time is there in abundance).

After lunch, as I was waiting in line to take advantage of the absolutely horrible exchange rate and get some Euros, I heard our name called from the check-in desk. It turned out that they just needed to scan our passports again. However, while I was up there, I took the opportunity to chat with the gals and joked around about how I thought they were calling us up to upgrade us. Although this was a complete joke on my part, to my surprise, THEY DID!

Flying from Boston to Frankfurt in Business Class, when we had been pretty sure we were going to suffer through a horrible experience in coach was absolutely wonderful. We were able to have a few drinks, recline the seats, and get a lot more relaxed. The flight was not long enough to fit in dinner, a movie, and a decent night's sleep. However, we were able to get a few hours of sleep in before touching down in Frankfurt at around 5:40AM. It still seemed like Wednesday to us, even though it was now Thursday.


11/22/2007 (In Germany)
We arrived in the Frankfurt airport without issue, and immediately noticed that the bathrooms were funny. There were several sets of bathrooms – all with only a single stall! So, Tim had to go into about 5 of them before finding one that was available. Soon after this, we also noticed that 2 out of 3 of our bags just were not coming.

So… I headed over to Lufthansa's office to file a claim. The woman was very nice and tracked down the bags. After consulting her computer, she told me that they never made it on the original flight out of Philly, so they sent them on a later flight, and the airline would deliver them sometime between 10am and noon that day. So, hopeful that at some point in the near future, Tim would have his clothes and I would have my makeup and toiletries, we headed for the exit.

Ray had provided us with very explicit directions for getting a cab and dictating the route to be taken to their apartment, so that we weren't given an expensive and impromptu tour of Germany. I was very thankful for this, as it definitely seemed from our interaction with the cab driver that tour would have been forthcoming otherwise.

The cab ride was a bit of a surreal experience, as it always is when one arrives in a different country in the dark when they have been up all night, realizes most of their luggage is somewhere in the airline matrix, and he/she is not entirely present. So, basically, I watched my surroundings out the window with a bit of detachment as though I were watching someone else watching. I did notice, however, that everything seemed quite a bit smaller. The lanes on the highway were smaller, the cars were smaller, everything was posted in kilometers (of course). The day was starting out cool and clear, but it was still mostly dark.

As we got closer to Ray and Juan Carlos' place, the streets started looking quainter and narrower. The part of Frankfurt they live is called Bornheim. We paid the cab driver, piled out with our carryon bags and started across the street to their apartment. We buzzed their apartment and a very sleepy looking Ray came out to greet us. It was great to see him! I felt bad that we were arriving so early in the morning – even before he would have had to wake up for work! But, as usual, Ray was great and talked to us for awhile, showed us our room, and then showered and took us out for breakfast. We went to a place called Ypsilon (Café Y). I had black coffee, bread and a special kind of cheese (kräuterkäse). Tim had bacon, sausage, eggs, baked beans with carrots and tomatoes, bread, and black coffee.

After about an hour, we headed back to the apartment so that Ray could get ready for work, and Tim and I decided to allow ourselves a nap before Juan Carlos woke up. (We learned later that Juan Carlos keeps slightly odd hours – sleeping from about 4am until noon – because he keeps more or less US hours to watch his TV programs and keep in touch with friends and family).

I awoke from a rather disorienting sleep to the phone ringing and our luggage was delivered! Whoo-hoo!
[Tim's Note: Kendra had a nap- I fell into a coma. I spent about 30 seconds lying horizontal before I was out cold. No dreaming, no rolling over- just out cold. Never heard a phone, never hear anything until Kendra came back up the stairs with our missing luggage].

Around this time, Juan Carlos also woke up, so we decided to get ready and within the next hour, we were out the door for what would be a fantastic three hour walking tour of the city lead by Juan Carlos (which I think he should make a side job out of). I think we walked up and down every major street. He is a very good tour guide! The tour also consisted of hilarious commentary by Juan Carlos on various people passing by us. This is a hallmark of spending time with Juan Carlos, and one of the reasons I love him. (Example: "That person already sticks out a lot because of their height and now he is ugly too. What a pity".) He has such a big heart. All of this is just part of his sense of humor.
[German cuisine- take your pick! Almost every eating establishment had these chalk and chalkboard menus (
speisekarte)
out front, and all seemed to be written in the same, not-quite-instantly-readable handwriting]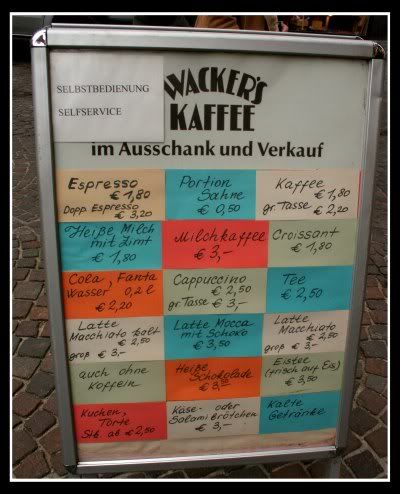 Because we are still a little jet lagged and sleepy, we probably did not pick up on as much as we should have on this tour. However, we walked through Frankfurt and Sachsenhausen (walking over two bridges back and forth from these cities over the Main river).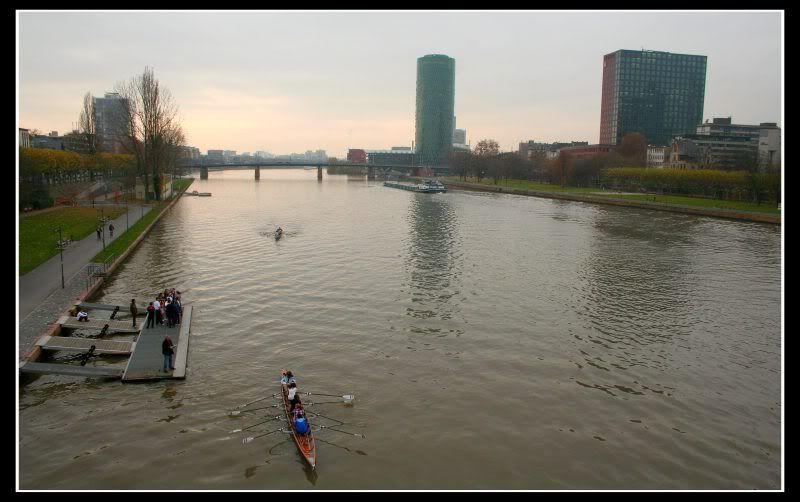 [A lovely, shaded walkway along the Main River]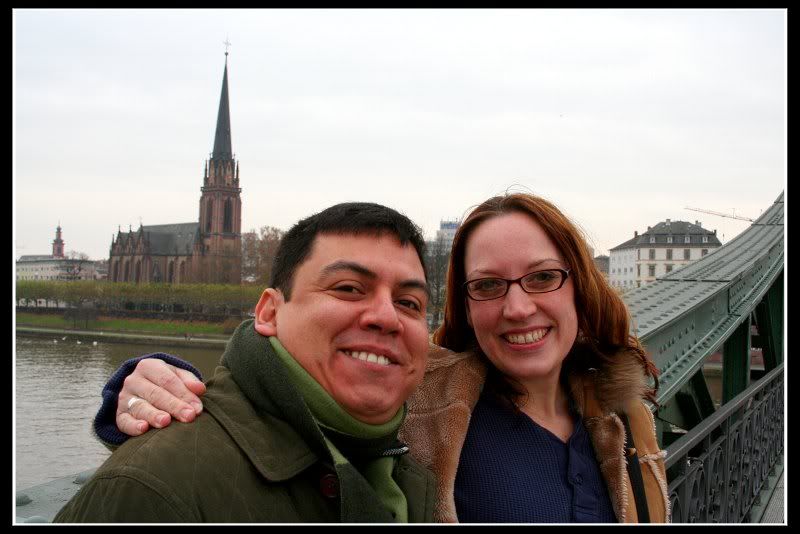 [Kendra and Juan Carlos on the bridge over the river Main]
We noticed that the "walking men" lights here are green instead of the white color they are in the US, which really makes a lot more sense.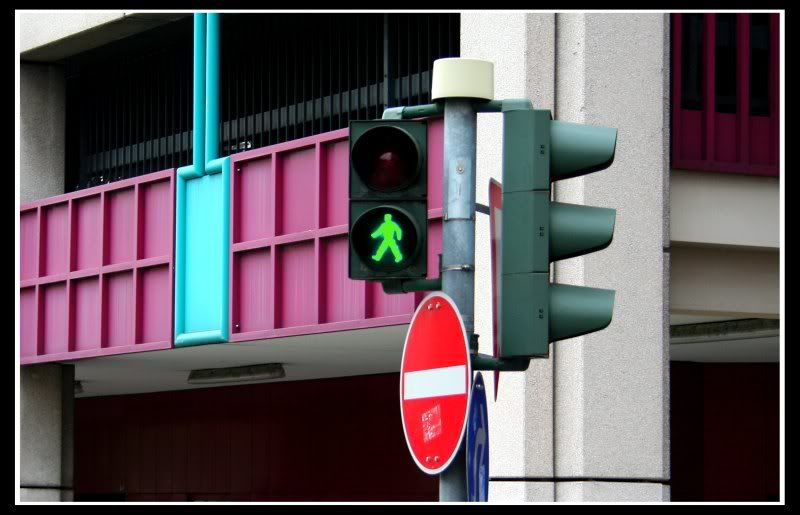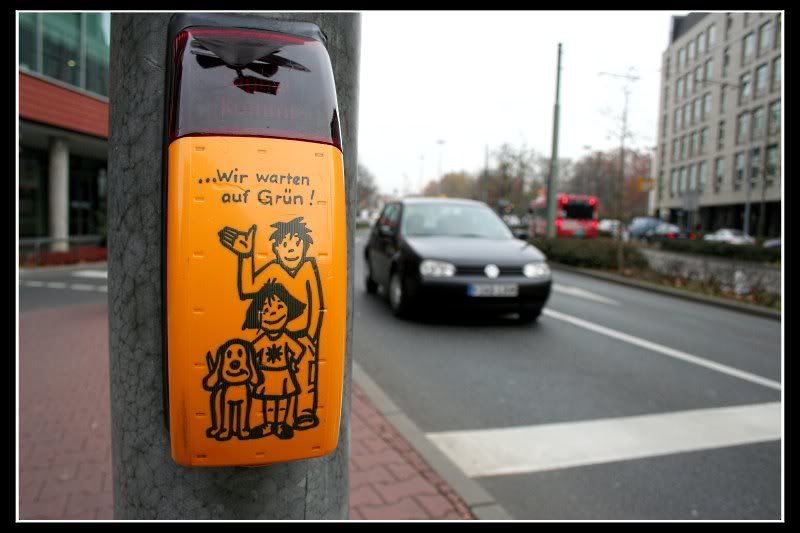 ["Wir warten auf Grun!"
"We're waiting for the green!"]
We also saw the ubiquitous Smart car made by Mercedes. They are so small you can park them almost everywhere, and people do.
(
Article on the Smart Car
)
[See? You can pull straight into the curb and still only take up the same amount of room that another Smart car takes up long-ways. Amazing!]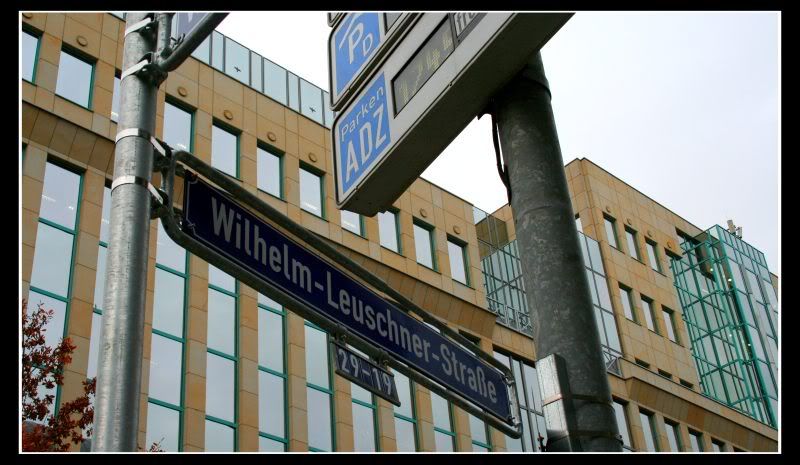 We had the opportunity to walk through a great farmer's market. There was an abundance of sausages suspended from the roofs of small huts. There was also a lot of cheese, wine, and mulled beverages. It was all really neat to experience. There were several people eating food, standing, and small round tables in pairs or by themselves. I told Juan Carlos that this surprised me, because I would think that people would take a lot of time with their meals. He told me that this is the case, but the meals I am seeing people eating casually and standing up are not meals – they are just small snacks. I think Tim was happy to hear this, considering it allows him to have as many in between meal bratwurst sandwiches as he wishes.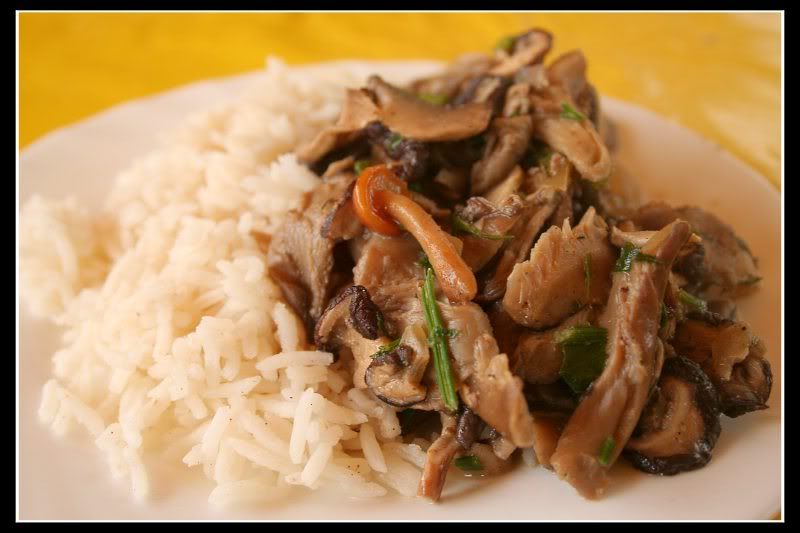 [Some yummy mushrooms and rice from the Farmer's Market]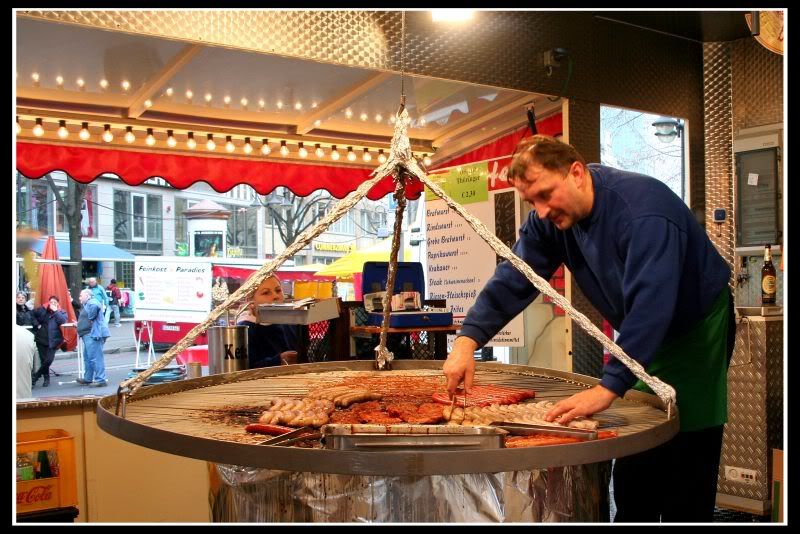 [Multiple varieties of sausage and bratwurst being cooked on a large circular grill]

I was a little intimated by this, as I think if I ever were to eat a bratwurst, I would not be hungry for the rest of the day (but then I'm not sure I have ever eaten one – even before becoming a vegetarian – so I probably have no basis for comparison… they just seem very filling).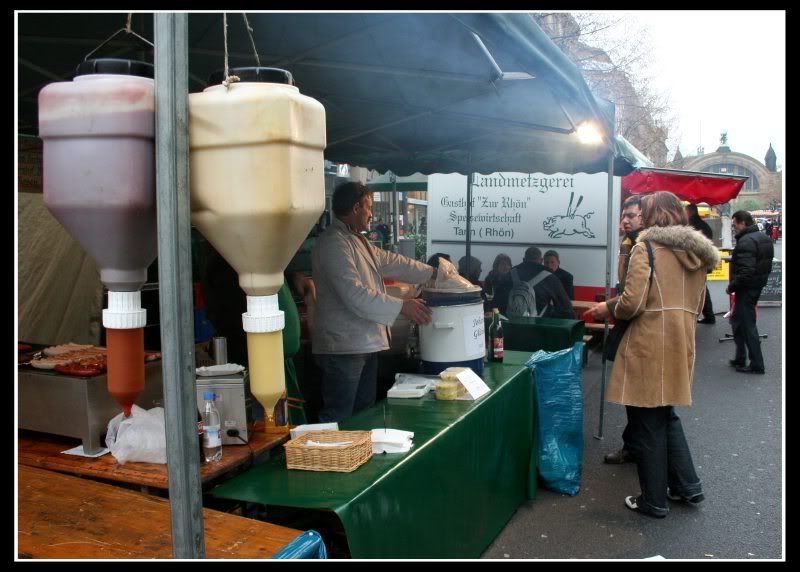 [Kendra getting some amazingly stomach-warming gluhwein (spiced mulled wine) from a street vendor. The objects in the foreground are ketchup and mustard (senf) dispensers for the bratwurst.]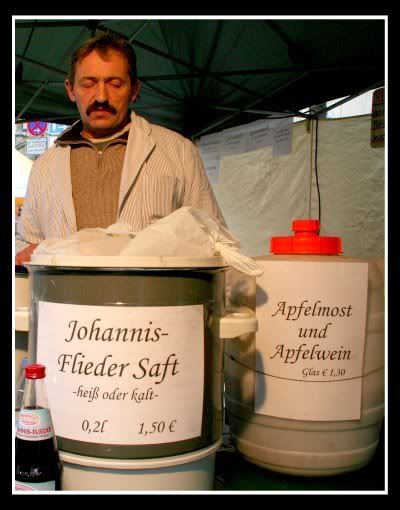 [Take it down slowwwwwwly...it warms the soul!]
We went into the Dom Kirche, which is a beautiful old church that is in the process of being restored. Tim took several pictures of the inside, even though it seemed slightly irreverent to do so. But – I'm glad he did, or we wouldn't be able to share it with you!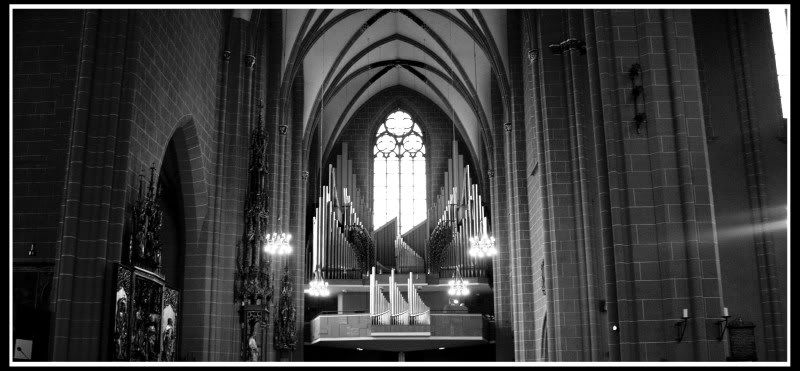 Also, everywhere workers were out decorating for the Christmas Markets (Weihnachtsmarkt) . The environment was very festive, and I'm sure after a night's sleep, I'll be more alert to it all.


[One of the hundreds of
Weihnachtsmarkt
stands. Most were still being built and stocked- this one was open for business and the whole will probably look (and smell!) amazing in the next few days!]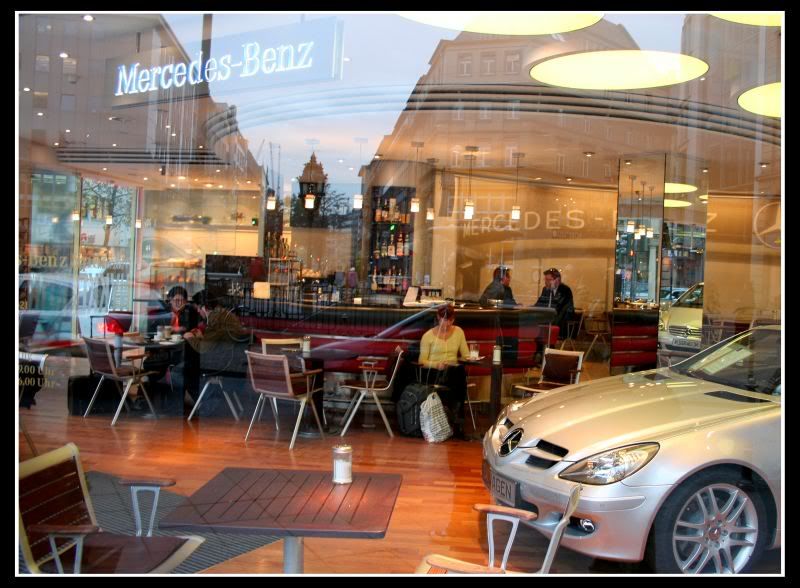 [A bar/cafe in a Mercedes-Benz showroom in Center City Frankfurt]
We stopped at a little restaurant on the way home for a standing up snack. Tim and Juan Carlos had potato (kartoffel) soup and I had to go across the street and bring back a bread and cheese, because all the soups in the shop were made with meat stock. I think bread and cheese will be my friend on this trip  Juan Carlos was getting antsy at me for not eating more. I think my mom called him in advance ;-)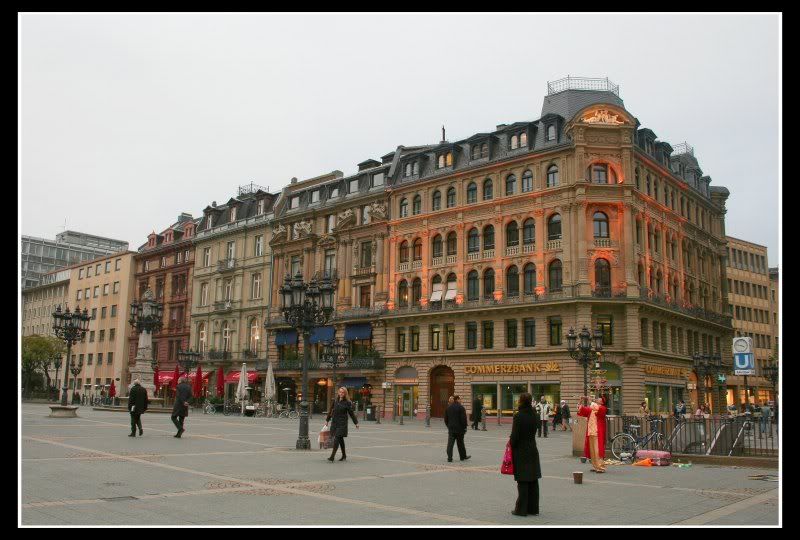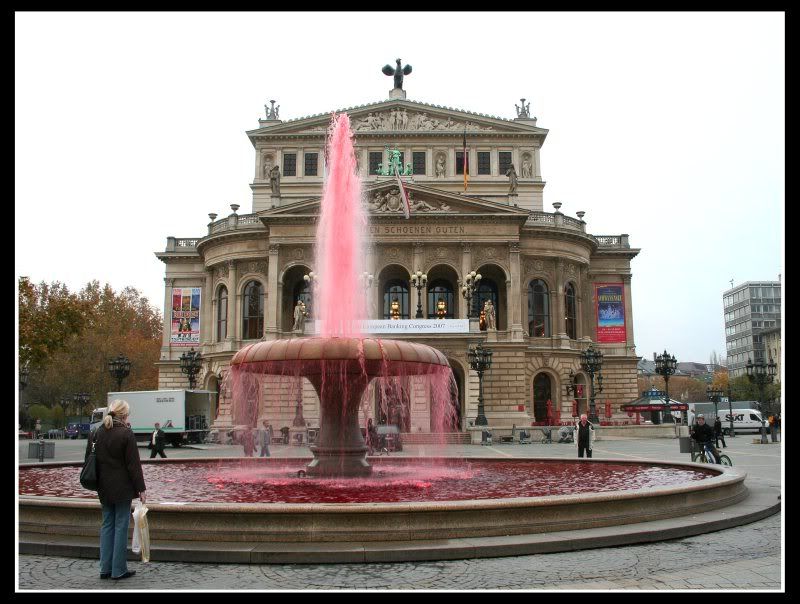 [The fountain in the square was dyed pink for some function at the opera house...either that or the punks from York College of Pennsylvania have been visiting...]
At around 5:30pm we headed back to their apartment to hang out and relax before dinner. We had reservations to meet Ray at 8:30pm at a restaurant on the outskirts of Frankfurt called Speisekammer.

I ended up taking another nap before dinner, since I was fading. Tim and Juan Carlos got his laptop hooked up to wireless and listened to music and TV (including the Macy's Thanksgiving Day parade via satellite from New York). Also during this time we were amused to find that Ray and Juan Carlos keep separate stashes of wine. Most of Tim and I's stash of wine is probably closer to Juan Carlos' :-)

Ray got home at around 8pm and we all got into a cab and headed for the restaurant. If one was taken to this restaurant and not driving, I highly doubt he would ever find it again. The cab wound through countless streets and alleys and finally dropped us off outside a beautiful little restaurant. We all walked through the nice outdoor patio in the back and into the restaurant.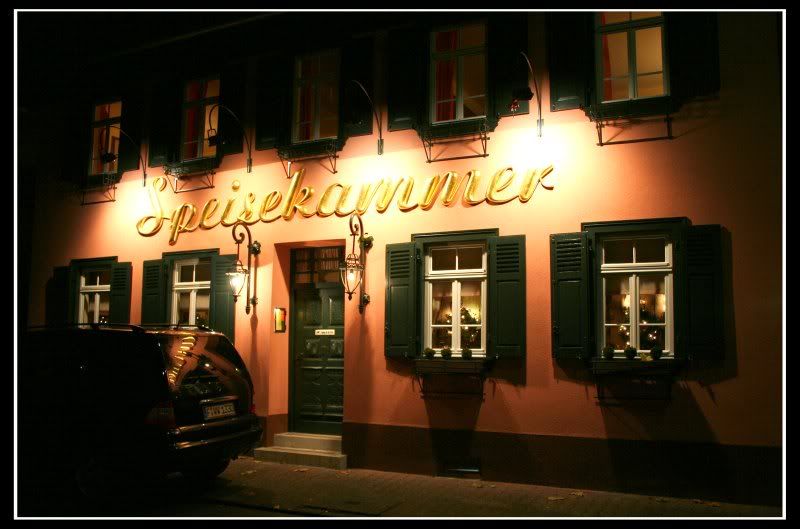 Ray was clearly a regular there. The staff loved him. We got a nice table in the front and ordered our food and drinks. It was a beautiful meal. We got to talk when we were all slightly more awake and caught up on what was going on with our families. We were there for about 2.5 hours. At the end of the meal, we started walking back since we had consumed quite a bit of food. On the way, we passed by two large stuffed animals propped against the wall. The teddy bear, unfortunately was marked for assassination with a large "X" on his forehead.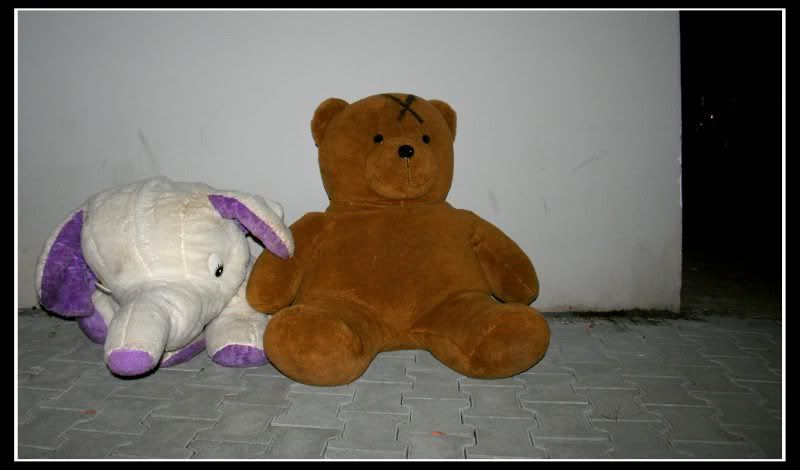 [It's the end of the line for Teddy on the back streets of Frankfurt]
Although we intended to take the train home, a cab came sooner, and so we decided to go that route. This ended up being a wise decision, since the last train of the evening passed the cab shortly thereafter, and we probably would have missed it.
I was asleep later that night almost as soon as I got out of the shower.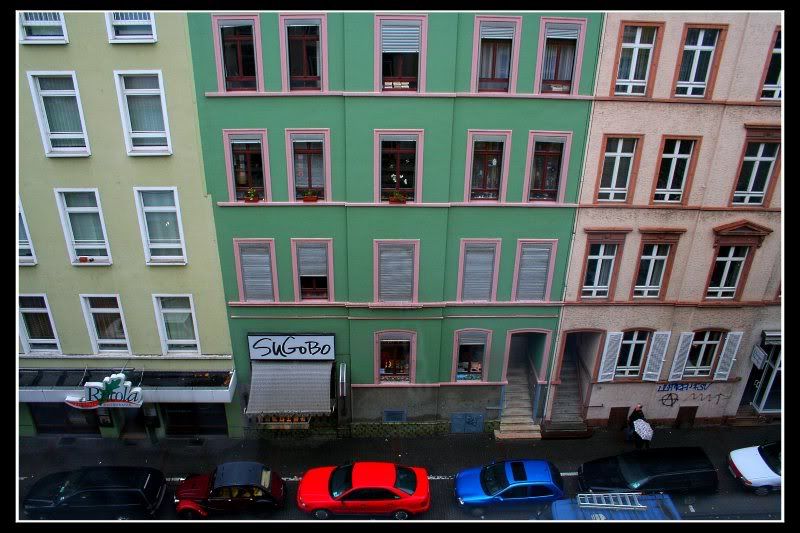 [The view from where we are staying in Frankfurt...yes, there is legal parking on the sidewalk.]