In Berlin - Day 1
['Tis the season for mulled wine (
Gluhwein
here in Germany). On blustery, overcast and chilly day in Berlin in November, nothing warms the soul like a glass of this ruby-colored deliciousness!!]
I have neglected to mention thus far that I am very allergic to something here. As I am sitting on the train to Berlin with my eyes stinging and watering and my nose running, it is hard to ignore this fact. I took Loratadine about 20 minutes ago to no effect thus far. Let's hope it kicks in soon. But, I'm getting ahead of myself…
This morning, our cell phone alarms went off at 6:45am so that we could make sure we were ready to take the subway to the Hauptbanhof and board the train to Berlin. It turns out that I didn't really need the alarm, because I have apparently adjusted to the time zone, and my old habit of waking up at 4am has reappeared. I went downstairs at this time and actually checked my work email for the first time during the trip. Seemed nothing major was going on. I'm not sure why I'm having such a hard time focusing on vacation for this trip. I checked my personal email. I felt really far away. I went back upstairs and tried to sleep.
Ray and Juan Carlos had the opposite problem – their alarm did not go off, and they slept in. I was really bashful about knocking on their door. I thought that they were probably up and just in the bathroom or something. But finally at 7:35am, I knocked and they had still been sleeping! The next 15 minutes were a flurry of activity while the guys tried to get ready, Juan Carlos called a cab, we made sure we had everything, and sprinted down the stairs to the cab.
When we got to the station, we all ran inside, found the correct track, and made it in time! So, now we are about an hour and 20 minutes into the four hour train ride to Berlin. It's a really nice train, with some pairs of seats, other areas with table for four and other enclosed areas for more than 4 people. Tim is snapping pictures out the window, and I'm trying to look like I'm not sobbing ("it is only allergies" auf Deutsch?).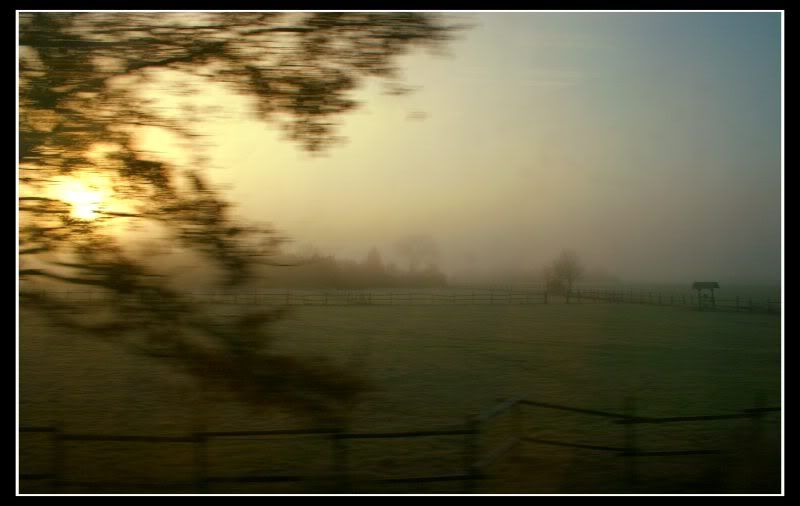 After we sat down with relief that we didn't miss the train, I went to get us all coffee. A very friendly German guy was trying to talk to me, but I didn't really understand what he was saying and had to just smile and tell him I didn't understand. Ray later went and got us croissants for breakfast.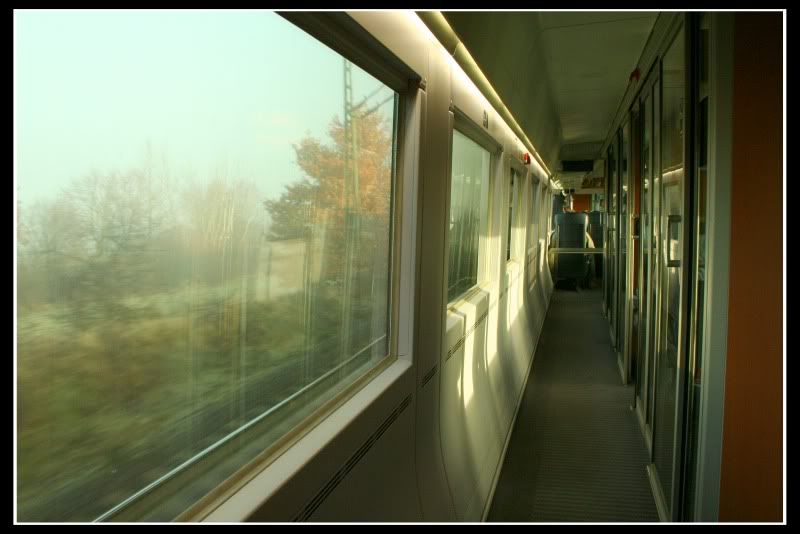 Towards the end of the four hour train ride, we had the unfortunate (yet comical) experience of sitting a few seats away from an American tourist FROM ORANGE COUNTY CALIFORNIA (spoken about 30 decibels louder than necessary) wearing (I kid you not) a pink outfit with a black hat that said "spoiled rotten" on it in rhinestones. She was asking for directions via subway to some remote place in Germany. A local woman on the train was doing her damnedest to try to help her, but as the directions got more and more complicated, and Miss O.C. kept saying "should I just take a taxi" (in high-pitched-my-daddy-buys-me-everything-I-want tone), it was just embarrassing. It was all Juan Carlos could to keep quiet.
Of course I am making fun of Miss O.C. However, I was dressed in my paint ball outfit that day just because it was the most comfortable thing I had brought with me. So, I was sporting the opposite look, very closely resembling "Miss G.I. Jane". I'm not sure which is really worst when traveling in a foreign country to be honest.
More when we get to Berlin!
11/24/2007 (Berlin – Checking into the Hotel and Touring the City)
Although I didn't realize it until the second day there, Berlin reminds me a bit of a very unusual and complex family. It is as though a couple gets married, starts beating each other, is forcibly separated one morning via court order, but not before having a few kids. Then, they each get remarried; hate one side of the family or another, and one of the former spouses ends up on welfare and destitute with 2/3 of the children. Then, sometime much later in the future, they all decide to make up, sit down for a large extended and step-family photo, and somehow they all look beautiful and adjusted in a defiant sort of way.
We walked around the city nonstop for the better part of two days. It really gives you a good pulse for the people of the city when you get a chance to do that. We stayed at a hotel in former East Berlin, and you can definitely still tell today that it used to be East Berlin. The architecture is quite boxy and stern and colorless. However, there is construction everywhere and former east and west are starting to blend and merge in ways that surprised even Ray and Juan Carlos who have been there several times before.
The population of Berlin seemed much younger than Frankfurt and there seemed to be a very large contingent dressed in punk and industrial styles. (And this was not a put on look from Hot Topic or anything commercial/pop trendy like that… some of these people gave me a bit of pause… even with, or possibly because of, my G.I. Jane get up).
Anyway, I'll return to proper chronology…
We took a taxi from the Berlin Hauptbahnhof (Main Train station) to our hotel – Mödenpick. It was a fairly new and very trendy looking Swiss hotel near the old (now bombed out) train station in East Berlin.
However, our rooms were not yet ready at this time, and so we left our bags at the hotel and set out on foot. It was on this adventure that we became acquainted with the main layout and structure of the city. We visited a nearby Christmas Market all set up with Christmas stands and food and drinks. Tim got some apple donut looking food (Shmaltz-kuchen) which resembles pieces of a funnel cake..




Although I am not really a big one for Christmas, even I could manage to get in the spirit with these merry ad cheerful surroundings! We also passed by a large snow tubing ramp set up in the middle of one of the squares with snow imported from Austria.
We walked all over the place! There was a lot of shopping and people of all kinds out and about. We noticed that the Ampelmännchen at the crossings were in the old East Berlin style with the red man with arms out and a hat on for "Don't Walk" and the green man walking with a hat on for "Walk." (Learn more here) I am still on a mission to get a hat here. There are so many kinds! A lot of the hats have that red star on them that Che Guevara wore on his hat. There are also several very cute knit hats with tassels on the top and little braided yarn down the sides. But I remain as of now hatless except for the WWF Panda hat that I got for my donation this year and which had not been packed into storage this past spring with the rest of our stuff.
Of special note in the walk was passing through the Brandenburg Gate...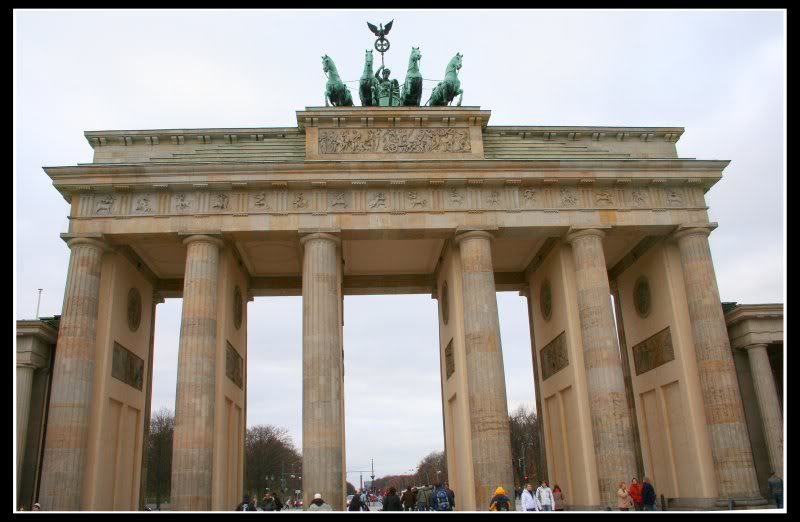 ...And Tim's newfound love of bratwurst. I'm impressed when he eats these with gloves on and tons of mustard and ketchup and manages not to get it all over himself. I am certain I don't have that skill. I personally think they look like little devils with the long bratwurst curling out from both sides of a much too small bun.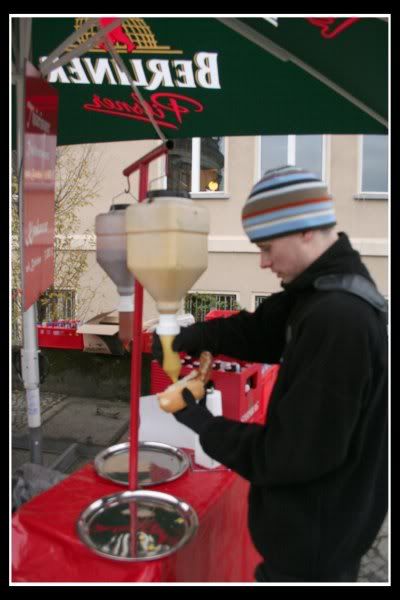 As for the rest of this tour, I'll let Tim's pictures speak for themselves. Despite the darkness, the cloudy and rainy weather, and the cold, I found my surroundings extremely interesting and beautiful. There was something about the city that resonated with me on an inexplicable level.
After our whirlwind self-guided tour, we returned to the hotel, completed the check-in process, and got our bags. We were really happy with the way the rooms looked. There was a very large bathtub in the middle of the room, which seemed a bit odd, but looked cool.
All of the fixtures and things were quite modern as well. We decided to get settled, changed, and then meet Ray and Juan Carlos downstairs in about 30 minutes to decide what to do the rest of the day.
When we got downstairs, we realized we were all very tired. Juan Carlos especially was almost asleep. But we ordered a round of Glühwein and got a few pamphlets to go through.
After ruling out the cabaret (I wanted to see a show, but we determined that we might not pick up on all the German humor), we decided to just set out for more walking and end up in a section of former West Berlin that had several cool restaurants and choose one for dinner. During this tour, we went to the former West Berlin. We stopped at a bar that served Paulaner (from Munich) on the way, since that is a type of beer Tim had wanted to try. We also saw (in the dark) an old church that had been bombed in WWII and a new, very modern sanctuary built next to it sometime later. We said we wanted to return there in daylight because it just looked so cool.
After much walking around and browsing, we ended up at a very good Italian restaurant for dinner. For the appetizer, we shared a salad with wonderful goat cheese on it. I had vegetarian lasagna and Tim had gnocchi. Ray picked out a very good bottle of wine and Tim had the darkest beer I have ever seen! Of course, the meal also came with the requisite amount of good bread which kept refilling itself. It was a very good meal. At the end of it, we walked back to the train station to return to the hotel for some much needed sleep.
We were amused that on the way home there were those same hip people waiting on strategic corners to pass out fliers for various clubs and parties that were going on. One young man came over to hand me fliers and said "Do you want to go dancing tonight?" in an adorable German accent. I said "Not tonight" and smiled. The guys were all teasing me.
Tim filled the bath for me when we got back. It was very hot water and very relaxing. (Even I – the queen of purposely scalding herself – had to wait for about 20 minutes before getting in).