Rainy Day in Frankfurt (Germay Day 2)
11/23/2007 (In Frankfurt)
Today we did not wake up until 11:30AM Frankfurt time. I know, I know… very, very lazy. We have jet lag, but there is only a six hour time difference from the east coast, and I really thought it would not be this hard to adjust. Maybe we just both have colds or are still worn out from the fall.
[Tim's Note: The medical experts say "one day per one hour difference" is necessary for complete jet-lag recovery. Or try this alternative method.]

Whatever the case may be, we slept in big time. When we woke up, we got dressed and decided to head out on the town again. Juan Carlos decided to stay in while we wandered around. (I asked him if he was getting depressed from the lack of sunshine… he said "soon"). Tim and I headed out into the cold, rainy day and walked up Bergerstrasse.
Our intention was to walk around, look at some of the shops, and then step in at the Snack Stand so that Tim could get a currywurst. In reality, the Snack Stand was very crowded and the rain was much worse than it appeared, so we only stopped in at two stores for browsing and then had a late lunch. (We would have gotten an umbrella, but with the exchange rate, it might have cost as much as our mortgage. So, we suffered through).
The first shop we stopped in at was a skate/snowboarding shop which had a lot of really cool looking shoes, hats, and clothes. There was also a great collection of snowboarding helmets. Tim and I joked about getting one for my generally clumsy sister for everyday use. J Next we stopped in at a book store where we browsed through the books and Tim ended up picking out a children's book called "Wo ist Tim?"("Where is Tim?"). For lunch we stopped in at Mirador where I got eggplant and Tim got a chicken dish. We each had a tall glass of Heffeweisen dunkel.



It was at this restaurant that I told Tim we really need to get more serious about using our German. We generally start out in German, but then because we aren't thinking in the language, if the person we are talking to knows English, he/she quickly realizes the German is not our first language and switches over for us. This is very polite, but will never help us learn!
After lunch, we saw the rain had not subsided, so we went back to Ray and Juan Carlos' apartment to get our books and spend a few hours at the coffee shop next to their house (Café Y). Tim ordered an Irish Coffee and I ordered a glass of water and Caffe Grog. Although it probably seems ridiculous to go to Europe only to sit in a coffee shop reading, it was a nice way to spend a few hours. We hardly ever get to do that in the US. I guess my take away was that if I did make the time to do such things more often, perhaps I wouldn't need to leave the country for a week of vacation. Food for thought…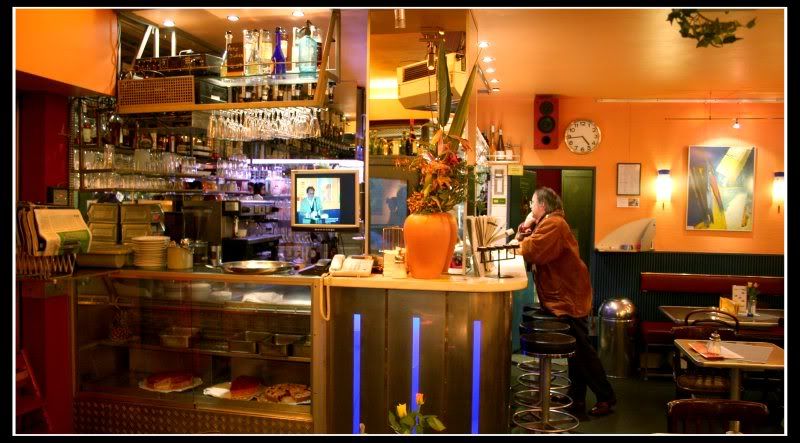 At around 5:30 or so, we returned to the apartment and talked to Juan Carlos until Ray got back from work. Juan Carlos showed us some of his favorite British comedy shows. Anyone who knows me knows that comedy isn't really my thing, but I did laugh. J
Ray had promised we could take them out to dinner that night, so when he got back from work "early" at nearly 8pm, we spent a bit of time deciding where to go and ultimately headed out for an Ethiopian restaurant. We took the subway to get there, which was on the honor system. Passengers used automated machines to purchase tickets which may or may not ever be collected. However, if a conductor does come to collect your ticket and you are without, it is a 40 Euro fine (which is approximately 1000 USD currently… ok, kidding – but it is still a lot – something close to $67).
When we arrived at the restaurant it was very crowded already. There were several unique places that groups could sit to eat included, but not limited to – the back of an ox cart, a hot tub, large bed type things covered in something resembling ox hide, and then the traditional table. I was not sure if I should be expecting a group of women to emerge and start dancing on the bar or what.
Because all the tables were taken, we were seated on a long bench downstairs for drinks while we waited for a table to open up. This bench and table were located in the little hall way area right outside the women's restroom. I joked that we were like the frat boy greeting party that sits in a table either right inside the door or right next to the dance floor at a club and gives every single girl that passes by the look over.
Eventually, much to my cousin's happiness, a real table opened, and we were able to sit in a circle to eat and talk. The food was great. I told Ray that it seemed strange to be eating all of this food from other countries while we were in Germany, but he said this is typical for Frankfurt.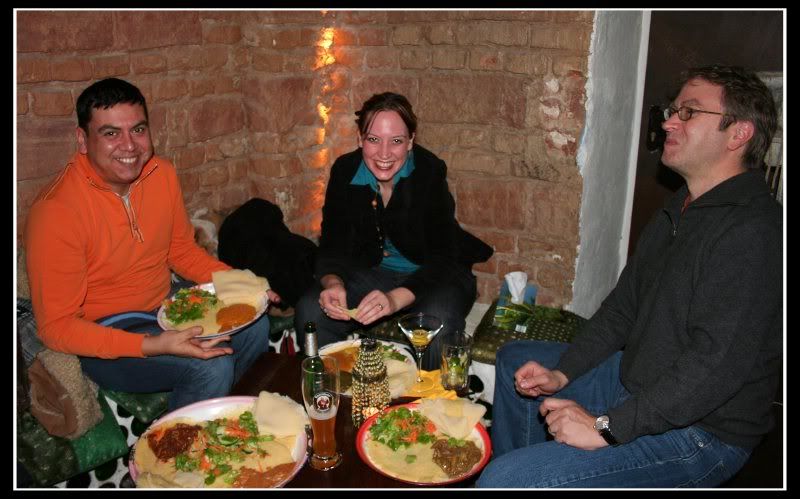 In other cities we visit on the trip, we'll have the authentic German experience, although it is doubtful there will be much for me to eat. But, I knew this going in.
After dinner, we discussed what to do for the weekend and decided to go to Berlin. We would have to get train tickets and pack and find a hotel, but Ray took care of arranging all of that. We decided to take the 8:13am train and stay at a hotel in the former East Berlin. We are very excited for this!