Wiesbaden/Mainz
[Another Train Station....somewhere in Germany...]
11/26/2007 (Wiesbaden/Mainz)
Quiz: What makes us look the least German in this picture?
a. Our facial features.
b. Kendra's jacket.
c. The Phillies sweatshirt Tim is wearing.
d. Our "to go" cups of coffee.
Answer tomorrow!
*****
This morning we woke up at around 8:30AM Frankfurt time. We had planned to leave at around 10:00AM for the train to Wiesbaden with Juan Carlos, but he slept in, and we were too shy to wake him up. So, while we waited for him to wake up, we cleaned the kitchen, worked on the blog posts, and took a walk to get coffee at Café Y. It was a nice leisurely morning, which was very nice and the sun was shining as well.
[Religious sticker tags (Frankfurt)]
[A cigarette vending machine in Frankfurt]
Finally, at around 11:30am or so, Juan Carlos started to stir upstairs and so we got ready to leave for the walk to the train station to take the S Bahn to Wiesbaden where our walking tour (led by Juan Carlos) would begin. Wiesbaden and Mainz are two cities that are across the Rhine River from one another. They largely were spared the bombing from the war, during which time they both had a large American presence.
Before we arrived at Wiesbaden, we had a one hour train ride from Frankfurt. We tried to all get our tickets from the machines, but apparently made a mistake, because although we paid the right amount for 3 day passes between Frankfurt and Wiesbaden, we ended up getting only 2 actual tickets somehow. One was between Frankfurt and Wiesbaden. One was for some remote area of Northern Germany and Frankfurt which cost 25 Euros. So, we were a bit stressed out for the duration of our train ride. Correction – I was stressed out. I'm not sure Juan Carlos or Tim get stressed out about such things. This could explain how it was that I lost my hat and gloves when he had to unexpectedly switch trains. I realized my mistake as soon as the train left the station and was very sad. This meant that I lost my mittens that my friend bought me and also that I'd have to buy new ones at our destination because it was very cold outside. Eventually, I realized there are worse things in life and got over it.
When we arrived in Wiesbaden, we did try to play the dumb American card and remedy the ticket situation, but we were unsuccessful. The woman agreed to exchange our 25 euro pass or one pass for Frankfurt worth 13 euros but would not exchange it for 2. So, we had to chance it on the way back, and thank God were successful.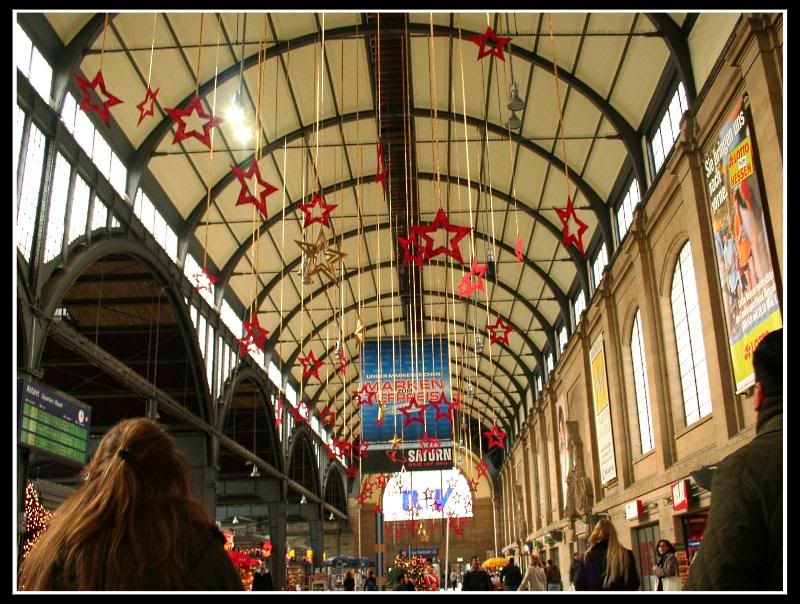 [The train station in Wiesbaden]
Our first impression of Wiesbaden (after the fiasco with the ticketing customer service) was that the houses along the main had an architectural style that reminded us of parts of Boston. We initially headed out from the train station to the center of the city, walking along a park. As has been the case for us, one of the first things we saw was a beautiful and ornately designed large church.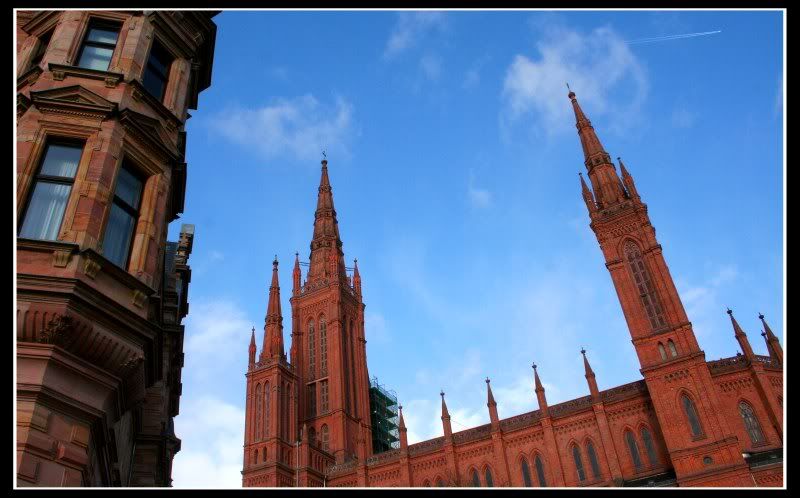 [Steeples and Spires]
We went inside where I bought a votive candle for 25 cents (Euro) and lit a candle for my sister with the closest approximation I get to a prayer (which normally resembles something more like a "please help" or "I'm so confused" plea).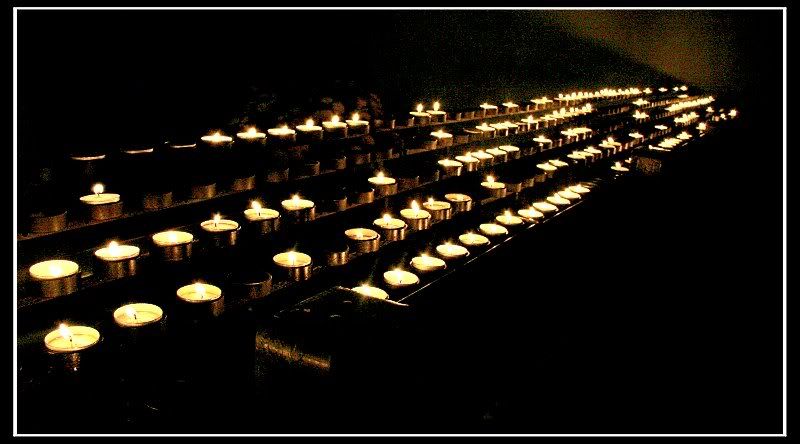 [The Candles of Prayer]
Also, as has been the case during most of our time here so far, it started raining with some wet snow mixed in. This made the purchase of a new hat and gloves even more of a necessity, so we ducked into a mall, and I got a plain pair of black gloves and a very interesting olive green hat with what I was pretty sure was the logo from Hustler on the front of it, but we aren't really sure. You see the hat – tell us what that's from, because we are dying to know what I'm walking around supporting!


Also around this time, we turned a corner into an alley and found a quaint little café/pub/restaurant named Der Kleine König (The Small King) and stopped in for some lunch. Juan Carlos had cup of coffee #4 for the day and a very large thin pizza-type dish, I had water and a baked potato (which came with loads of soft cheese), and Tim had a beer and goulash and a farmer's bread with cheese. It was a cute little bar that played exclusively American music on the radio.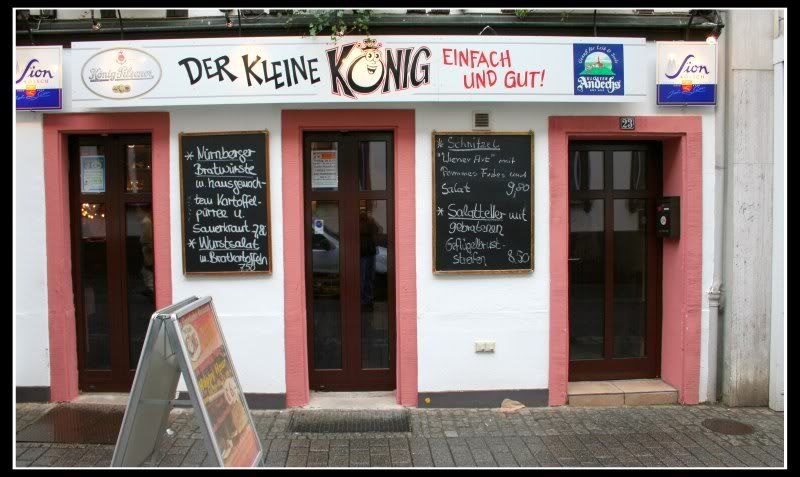 ["Farmer's Bread" with cheese, tomatoes, cucumbers and pretzels on the side. Delicious!]
Wiesbaden is mostly known as a spa city, but we managed to avoid most of that. We did walk over a very interesting bridge to a park. Although the surroundings were very appealing and quaint, there was no shortage of graffiti (as has been pretty much everywhere here in Germany so far). One of my favorites was someone who had painted a Tom Petty lyric– "Let's get to the point. Let's roll another joint, and let's head on down the road. There's somewhere I gotta go." This was written on the wooden boards of a very old-looking bridge across a winding narrow street.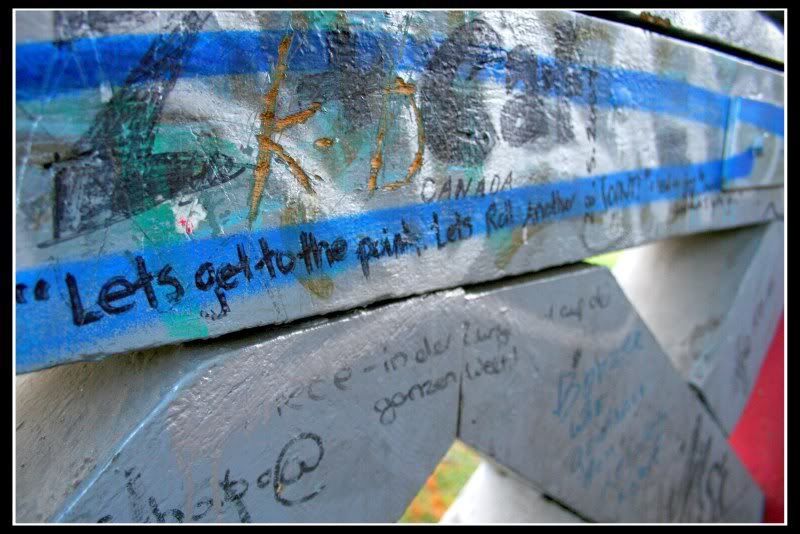 Before heading out to Mainz, we stopped in at one of the famous Gummy Bears stores (that's really all they sell!) to get some snacks for my co-workers and my mom.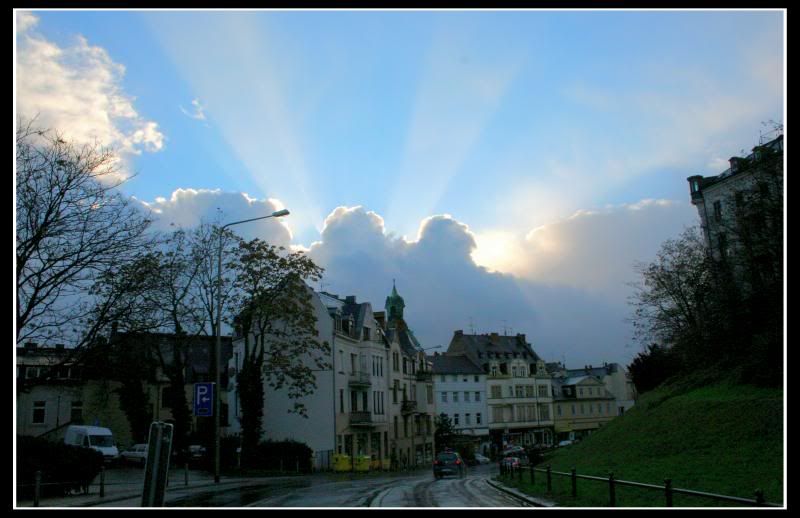 [Rain, clouds, sun...it's all unpredictable here, but it makes the sky look pretty dramatic!]
Final commentary on this city is that 80% of the women between the ages of 18 and 35 appeared to have nose rings or studs. It was interesting that it actually stuck out to us as being a lot of people since that piercing is pretty common.

[These signs are how you can tell how many open parking spaces are in the various garages and lots around town.]
By the time we got back to the Hauptbahnhopf, on the correct train and into Mainz, it was dark already (remember it is winter and we are as far north as Calgary, Canada). Because of all the puddles we had stepped in throughout the rainy day, both Juan Carlos and I had wet feet. He got us new socks, which were very warm and actually had the "L" and "R" labeled, which I found amusing! The extra socks helped to keep us a bit warmer, as we walked along river and through the city.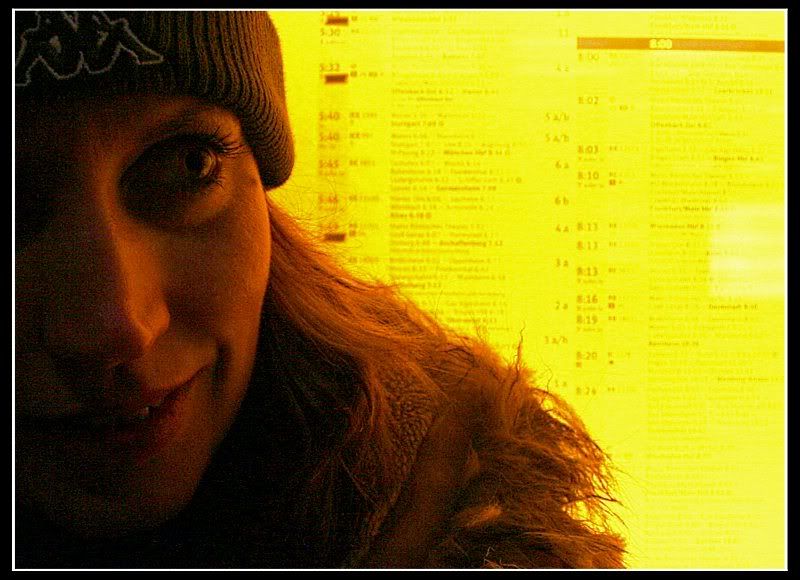 This city looked like San Francisco to us. It was hilly, the houses were of the typical San Francisco style, and there were cable cars. Although we weren't able to go inside, we did see the outside of Gutenberg's church. Gutenberg is famous for the printing press and there are several
Gutenberg Bibles
.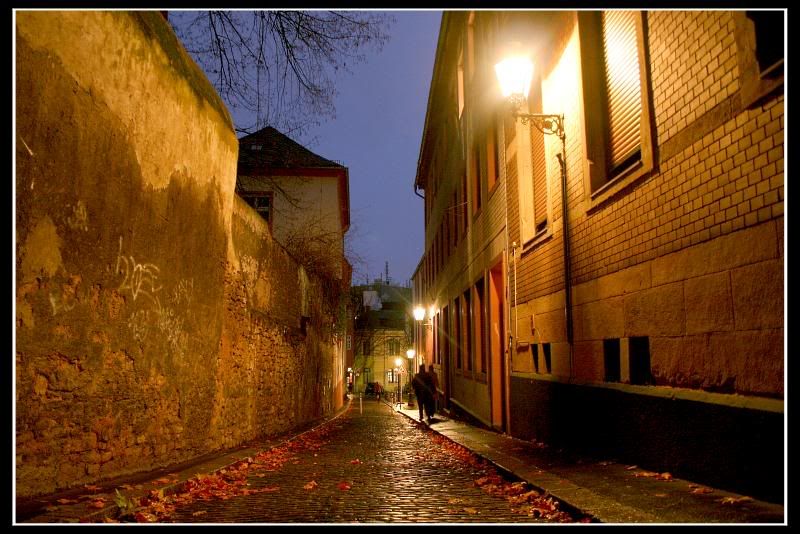 Finally, any visit to any of the German cities during this time of year would not be complete without witnessing the set up of a Christmas market!!! Mainz was no exception to this.
We sat at the very back of the train on the ride back and chatted. We were all pretty tired, but we still had the evening ahead of us during which we planned to go to the opening night of the Frankfurt Christmas Market and meet Ray for dinner. We ended up going directly to the Christmas Market from the train station. We drank hot Glühwein and Tim got a bratwurst from the round grill like he wanted to when we were seeing the market getting set up. Tim also picked out a nice German beer stein that will be a good souvenir of our experience here.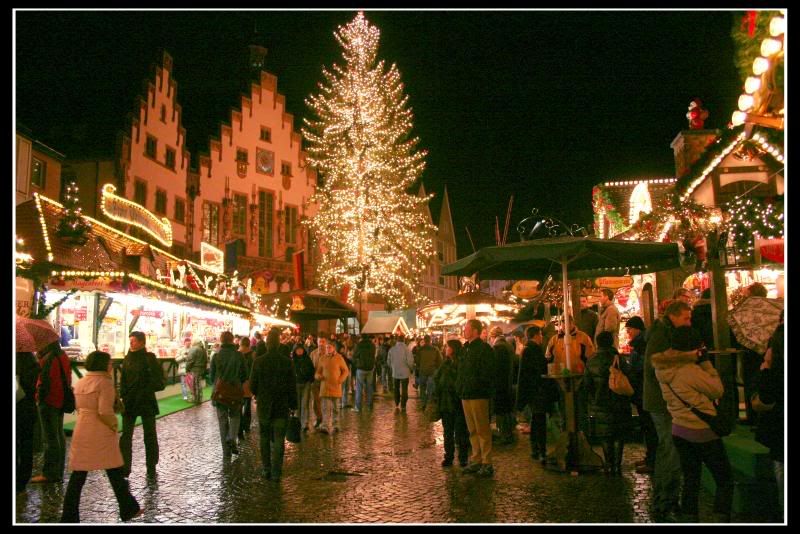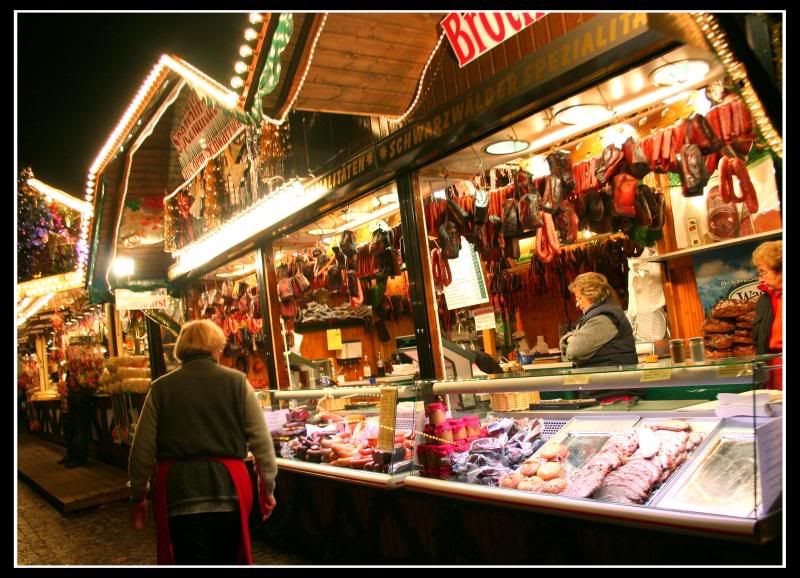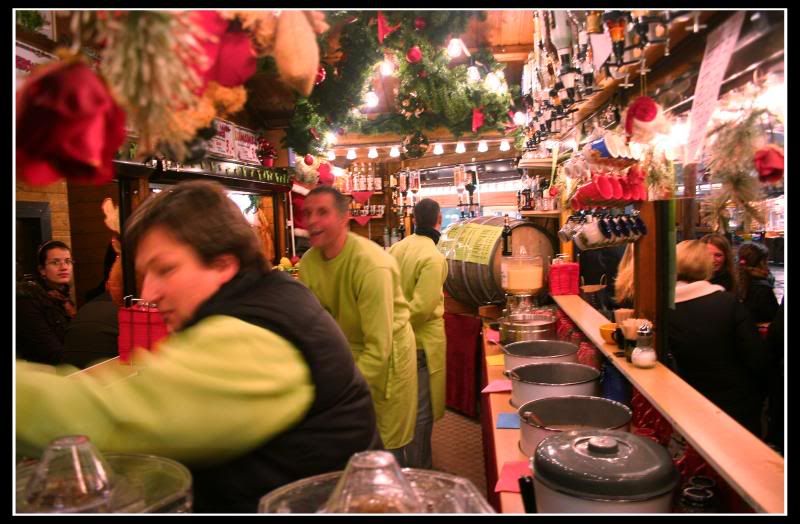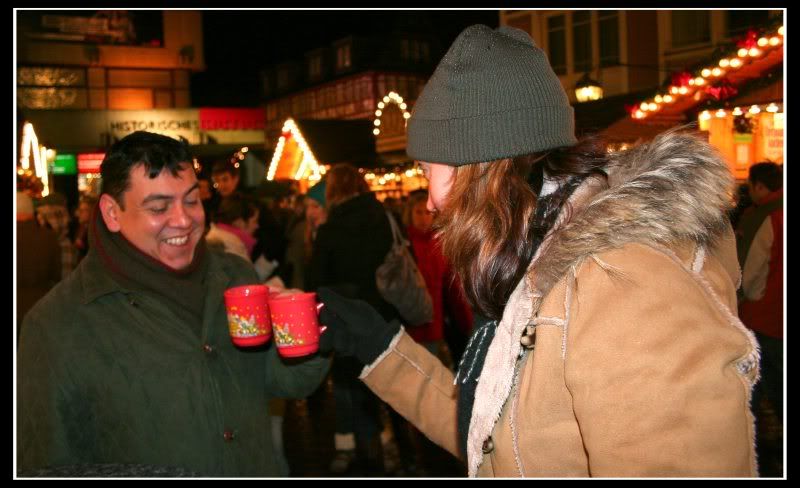 [Cheers to a nice hot beverage on a cold night in Frankfurt!]
I think that Ray and Juan Carlos would have preferred to get food at the Christmas Market and eat standing up at one of the little tables. However, I was way too cold by this point, and I wasn't really looking forward to a potential dinner of donuts, sausages, and more Glühwein. So, we ended up walking over to have dinner at Schönen Müllerin. This is one of the restaurants that Ray and Juan Carlos have been frequently and knew many of the staff there. I ordered an omelet type thing and Tim ordered Hessen Schnitzel. We also each got a dark beer.
At the end of the meal, we headed back and were looking forward to a good night's sleep! Tomorrow would be our last full day in Germany.