The Fence
Hello Everyone!
Tim here with a much needed update post.
It's been a crazy couple of weeks, whirlwind-style, here in our world. Things have developed quickly and we haven't been able to get the word out to the masses in timely matter.
Well, to cut to the point, as of last week, this is our new neighborhood: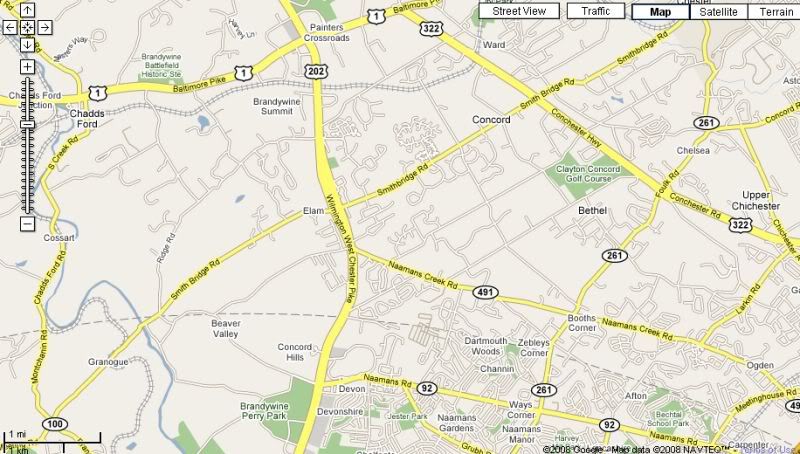 Yeah, not alot going on as you can see. It's a whole different universe than our Old City Philly residence, but we're adjusting. To be honest, I thought that I'd be writing up an emotional, tear-streaked farewell post about our heart-breaking exit from city living and describing the painful realization that we're now a good 40-minute drive from the dozens of our favorite locations that were previously right in our backyard and how we're now isolated from all culture and intelligent life in a horrific suburban nightmare.
Maybe it's just that we've been so busy with the move that it all hasn't sunk in yet, but it hasn't really been that bad. Granted, there are driving rules out here that neither Kendra nor I have figured out yet or a single bar that we would even consider possibly walking to. We no longer have a doorman, elevator, trash service, ATM or dry cleaning service in our building. Fireworks at Penns Landing are nowhere to be seen. In fact, not a single building over 3 stories high is visible out of our window. I can't check the traffic on the Ben Franklin Bridge with my own eyes or tell when the Eagles scored a touchdown firsthand. I won't ever be able to walk to a show at the Ritz, 4 Seasons, Rittenhouse or Loews Hotels and the days of walking to work alongside the Ben Franklin & Betsy Ross impersonators and horse & carriage tour guides are over. From the subway station on 2nd Street to my front door used to be every upscale/downscale/funky/hip/fetish/formal/trendy clothing boutique imaginable as well as a half a dozen different places you could pick up an amazingly delicious seared Sashimi Ahi tuna dish. Currently, I have a Super Wawa across the street. That's it.
But then, there's always a flip side to every record. Flip this particular record over and it's spinning a happy, whistling tune of a 10 minute commute to work, massive $$ savings in gas (just in time!), a fond farewell to the paycheck-draining Philly wage tax and a parking lot where the even the last remaining spot in the remotest corner would be considered a nice short walk home. It's a tune of more square feet for Kendra, the cat and myself; no more drunk New Jersey kids, their stupid SUV's and their trash; no more blaring PATCO horns on the BF Bridge and a whole lot less time wondering what the homeless guys might find worthwhile to break into my car for. I can't see my current neighbors using lawn chairs and trash cans to "reserve" parking spots after a big snowfall. Trips back from visiting the family will no longer be doubled in length just because of a Sixers game. We are now paying ZERO condo fees for questionable "improvement projects". Our laundry exhaust is now actually being vented outside our unit. No longer do we have to reserve an elevator to use for large deliveries, sign in our guests, use 15-minute parking zones or borrow wheeled carts to unload from our runs to Target. Right now I can see my own car out of the window and don't have to go move it around the block in an hour and a half. The first Friday of every month will no longer strike fear in our hearts with the knowledge that insanity will reign supreme over our neighborhood just as were getting home from work.
But how cool was it on First Friday's to see every artist in the area out on the street and every gallery serving wine to the public? How cool was it that to get a six-pack of beer, amazing sushi, a top-of-the-line massage, the best coffee in Philly, a bottle of wine, gifts for every occasion and the latest independent films were all less than a mile in any direction? And having all this nestled in between the most beautiful and significant landmarks and structures in American history?
As you can see, we're still on the fence.
But at least we don't have a fence. Or a Yard. Or a Garage. We haven't gotten so suburban that we're fighting with the neighbors over when we mowed the lawn last or how many cars are parked in the driveway (or yard, for some!). We're renting an apartment in a very cool complex (we've already taken advantage of the fitness center we have here and have gotten other exercise from having to take our garbage and recycling outside for the first time in 7 years.) There's an outdoor pool with BBQ grills for when it gets warm and a business center, movie theater, pool table and party space as well. Elora loves the windows and is doing better than she ever has with her walking and keeping her litter from getting strewn everywhere.
We're making slow but steady progress on fixing up the condo to sell. We're trying to put as much effort into squeezing as much value out of it as possible.
So that's the deal. We'll let you know when we're ready for a big Tim & Kendra style get-together here at the new place for all of you. Right now we're getting the place to look more like home and not Raleigh-esque corporate housing.
And so far no complaints from the neighbors about any noise. The
Samson Sub
is back online and you know how I like my bass!!
Peace, Out.